party animal - not!

Clooney valentine




Posts

: 11913


Join date

: 2012-02-16



[size=52]Bienvenue à Brignoles, Monsieur et Madame Clooney![/size]
Following a roller-coaster contract approval that included a court challenge from another potential buyer, George and Amal Clooney are the new, official owners of Provence's Domaine du Canadel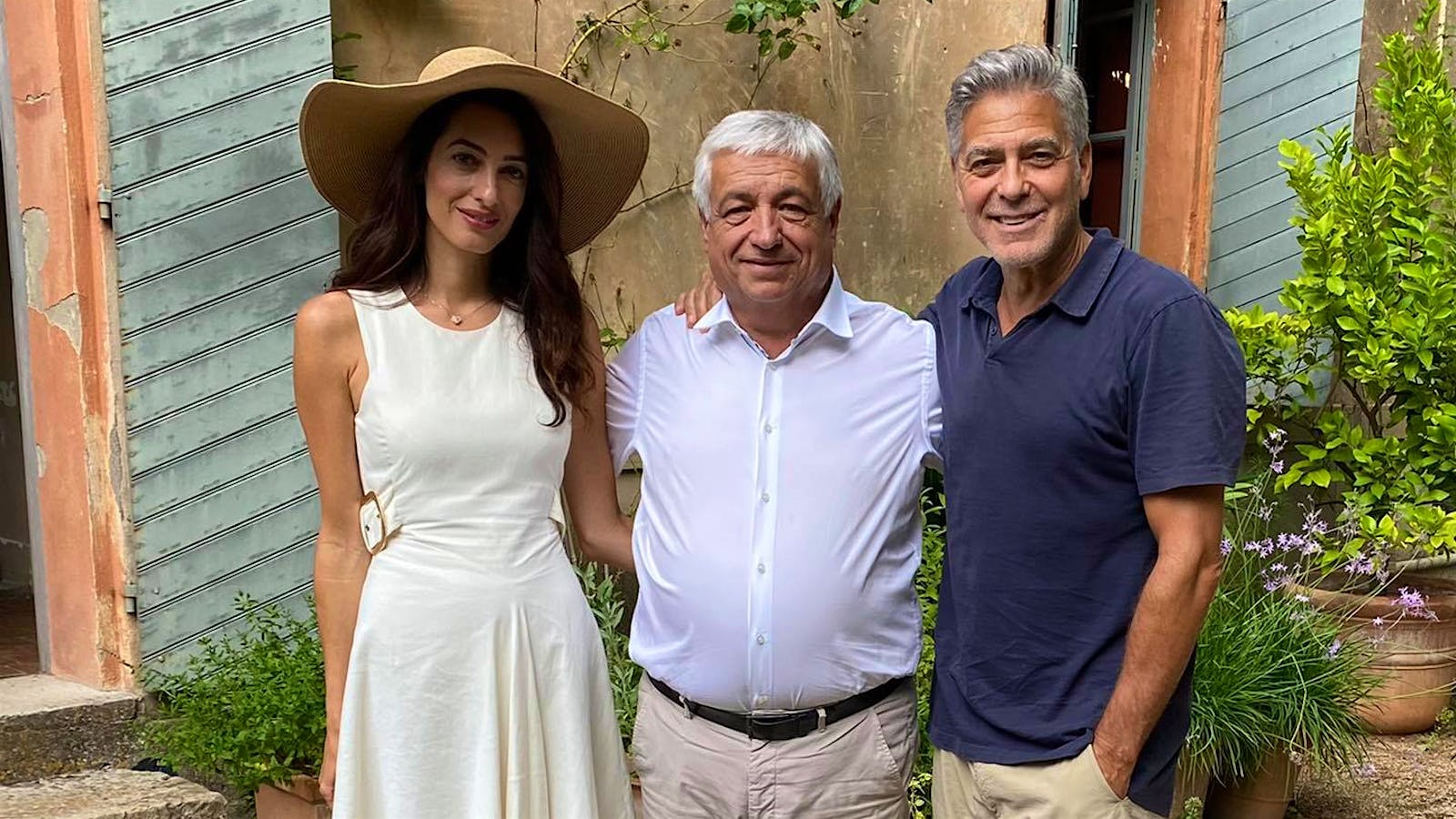 Amal and George Clooney with Brignoles Mayor Didier Brémond (center) at the couples' new wine estate in Provence, France (Courtesy of Didier Brémond)
By 




 

[url=https://twitter.com/intent/tweet?url=https%3A%2F%2Fwww.winespectator.com%2Farticles%2Fprovence-officially-welcomes-new-neighbors-george-and-amal-clooney&text=The newest celebrity neighbor in %23Provence is officially moving in%21 Bienvenue %C3%A0 Brignoles%2C Monsieur et Madame Clooney%21 %40WineSpectator has the details%21][/url]
 

[url=https://pinterest.com/pin/create/button/?url=https%3A%2F%2Fwww.winespectator.com%2Farticles%2Fprovence-officially-welcomes-new-neighbors-george-and-amal-clooney&media=https%3A%2F%2Fmshanken.imgix.net%2Fwso%2Fbolt%2F2021-07%2Fun_clooneys072221_1600.jpg&description=Provence Officially Welcomes New Neighbors George and Amal Clooney][/url]
 

 



Jul 23, 2021
George and Amal Clooney are now officially the owners of Domaine du Canadel, announced Didier Brémond, the mayor of Brignoles, France, this week.
"Welcome to Brignoles! It's now official, George and Amal Clooney are residents of our beautiful community," wrote Brémond. "I have had the pleasure of meeting them, by their invitation, at Domaine du Canadel, where they will soon set down their suitcases."
The mayor's office confirmed to Wine Spectator that a legal dispute over the sale of the Provence wine estate had been resolved, and the Hollywood A-listers had begun moving in to the beautiful 425-acre estate, located in the Var.
This past May, it came to light that another potential buyer claimed to have signed a contract to purchase the estate in August 2020, for a reported €6 million, before Clooney signed his own agreement. The local prosecutor's office confirmed that the disgruntled would-be buyer filed a lawsuit against the sellers in the Draguignan tribunal in March, contesting the transaction. The plaintiff's lawyer, Guy Azzari, had told the French media that it would likely take several months before the case went to trial. There was no indication that the Clooneys were accused of any wrongdoing, nor aware of any real-estate hijinks.
Apparently the Draguignan tribunal worked at warp-speed to sort the matter. The Clooneys are now setting up their Provencal pied-à-terre, which includes an exquisitely renovated 18th-century mansion as well as a pool, tennis court, boules pitch, formal gardens, ornamental lake, olive grove and 25-acre vineyard.
The estate is a 30-minute drive from Château Miraval, co-owned by ex-couple Brad Pitt and Angelina Jolie. Twenty minutes away is Château Marguï, owned by George Lucas. And the Brignoles locals are thrilled with their newest neighbors. "His arrival could do us a lot of good," Brémond said earlier this year. "With George Clooney, we are in a new dimension."

---
[size]
Enjoy Unfiltered? The best of Unfiltered's round-up of drinks in pop culture can now be delivered straight to your inbox every other week! Sign up now to receive the Unfiltered e-mail newsletter, featuring the latest scoop on how wine intersects with film, TV, music, sports, politics and more.
[/size]
Unfiltered
Rosé
Winery Purchases and Sales
Actors
Film / TV
France
Provence
Popular Posts
Cheval-Blanc and Ausone Say Adieu to St.-Emilion Classification. Does It Matter?
Jul 23, 2021
Bienvenue à Brignoles, Monsieur et Madame Clooney!
Jul 23, 2021
What Am I Tasting?
Jul 9, 2021
Announcing Wine Spectator's 15th Annual Video Contest
Jun 9, 2021
Wine Spectator Reader Dogs: 1,400+ Photos!

annemarie

Over the Clooney moon




Posts

: 10030


Join date

: 2011-09-11



So now what? Do they split their time between their Lake Como estate and this place? With at least 5 homes, how do they decide where to go when? Must be confusing as hell for the kids if someone asks "Where do you live"?. Oh, well. Rich people problems!
Also, not sure they'll have Brangelina as neighbors for long. NY papers covering their ongoing divorce saga seem to intimate that one or both of them would like to sell their property in France but can't until the divorce is finalized. Again, rich people problems I'll never have.

LizzyNY

Zip a dee Clooney!




Posts

: 7773


Join date

: 2013-08-28


Location

: NY, USA



Mm, and come to think of it the Como property has several different buildings which do different things.

There's been some suggestion I think that this is a branch out to wine, but I guess the odd trip would help the children with French (their mother is fluent I think)

Bottom line this is George's investment line rather than stocks and shares isn't it?

I get the feeling the Jolie/Pitts aren't at their place much at all, but it is a thriving business.

There also seems to be a mini (or maybe not so mini) industry that seems to go on in the States where the stars buy and sell properties and make millions just doing that as a sideline

party animal - not!

Clooney valentine




Posts

: 11913


Join date

: 2012-02-16



PAN - There do seem to be some celebs who buy and sell real estate as a sideline business - especially those who are mega-rich. I'm thinking it's a tax thing. Others seem to invest in properties to live in but sell them when the whole character of the place changes because having  "celebs" live there makes the place more "hip" (and usually a lot more expensive) ie. Williamsburg, Park Slope or Greenwich Village to name a few here in NYC.

The set-up at George's new property sounds ideal for a small hotel or convention center. Maybe the whole thing is a business venture rather than another home. And, yes, real estate is his go-to investment choice.

LizzyNY

Zip a dee Clooney!




Posts

: 7773


Join date

: 2013-08-28


Location

: NY, USA



Yep, george buys real estate. I think they can use it when they want and rent it out if they wish. They both love wine so why not own your own winery.

annemarie

Over the Clooney moon




Posts

: 10030


Join date

: 2011-09-11



I'm wondering if this is now a move away from Italy? I know George has loved his Italian lifestyle for decades, but perhaps now's the time for him to move on?

Admin

Admin




Posts

: 2044


Join date

: 2010-12-05



---
Permissions in this forum:
You
cannot
reply to topics in this forum