Free Webmaster Tools
Submit Express

I can't post the link to this 'Washington Post' review (only subscribers can access). I just read a review by its TV Critic Hank Stuever. A couple of quotes:
"... enjoyable and surprisingly poignant. A refreshing find."
"Hulu's version written and created by Luke Davies and David Michod and shepherded by Executive Producer George Clooney and others - strips 'Catch-22' down to its essential brilliance and then builds it back up into a sweeping, beautifully filmed, humorous yet tragic tale of a young man forever changed by war."


Donnamarie

Happy Clooney-looney!




Posts

: 5430


Join date

: 2014-08-26


Location

: Washington, DC




This from the Guardian:

https://www.theguardian.com/tv-and-radio/2019/may/16/catch-22-review-george-clooneys-dizzying-daring-triumph

party animal - not!

Over the Clooney moon




Posts

: 10365


Join date

: 2012-02-16



Catch-22 review – George Clooney's dizzying, daring triumph


4/5stars4 out of 5 stars.
    


The actor-director's visually impressive adaptation of Joseph Heller's second world war novel is a violent, frenetic and disquieting small-screen satire
Adrian Horton
Thu 16 May 2019 02.00 EDTLast modified on Thu 16 May 2019 02.39 EDT




[url=https://twitter.com/intent/tweet?text=Catch-22 review %E2%80%93 George Clooney%27s dizzying%2C daring triumph&url=https%3A%2F%2Fwww.theguardian.com%2Ftv-and-radio%2F2019%2Fmay%2F16%2Fcatch-22-review-george-clooneys-dizzying-daring-triumph%3FCMP%3Dshare_btn_tw][/url]


Shares
365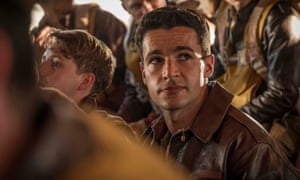 Christopher Abbott in Catch-22. Photograph: Philippe Antonello/Hulu
[size=89]T
here's a moment late in Catch-22, as a second world war bomber returns from a mission over Italy, that I realized planes can land with their engines on fire. The plane, smoke trailing its left engine, wobbles to the runway, which seems ridiculous – if the fire is literally at hand, how can it just land normally? But apparently, that's the way it is.
Ramy review – sharp comedy series examines Muslim American life

4 out of 5 stars.
    
Read more
That shot – extraordinary treated as normal, routine marred but not upended by disaster – captures, like many others, the pendulum of contrasts in Catch-22, Hulu's limited series adaptation of Joseph Heller's canonical 1961 novel. Executive produced and part-directed by George Clooney (with Ellen Kuras and Grant Heslov), Catch-22 enjoys a jarring cut – the lurch from control to chaos, tranquillity to brutality, upbeat swing music to ominous score, a sunbaked beach to lines like: "His eyes, there was no life flashing before them or anything like that. Just terror." It's a book that revels in the absurdity of war and impotent bureaucracy, which on the screen translates into an exquisitely filmed, disorienting send-up of our ability to rationalize insanity as just the way things are.
[/size]
Play Video
1:38
[size]
 Watch the trailer for Catch-22 - video
This is, after all, a show that opens with a naked Christopher Abbott, streaked in blood and walking along the tarmac before promptly jumping back two years to basic training. John "Yo-Yo" Yossarian (Abbott) prepares to depart for the Mediterranean theater (in the show, both a physical location and a theatre for the arbitrariness of bureaucratic decisions and their dramatic consequences). Yo-Yo endures the indignities of training from General Scheisskopf (Clooney) with his best friend, Clevinger (Pico Alexander) before shipping out to the island of Pianosa, off the west coast of Italy. Unlike the novel, Hulu's Catch-22 unfolds chronologically from 1942 to roughly 1944, as Yo-Yo and his compatriots fly an ever-growing number of missions over the Italian countryside, as ordered by the bumbling Colonel Cathcart (Kyle Chandler, remarkably both intimidating and idiotic) and apathetic Major de Coverley (Hugh Laurie).
But it's not all death and destruction; in his satire of the military and the meaninglessness of war, Heller luxuriated in paradox and circular reasoning – "I mean, you know what I mean?" – and Clooney's camera lingers on Yo-Yo and his time in the Mediterranean sun. There is sunbathing, dates in Rome and fresh tomatoes with olive oil, imported by the most ambitious mess hall supervisor of all time, Milo (Daniel David Stewart). Over time, Catch-22 establishes a distinctive, destructive pattern: lounge on the beach, jump into the water, fly another mission, maybe survive; count down the mission quota to get home, only to have it raised again; repeat. Yossarian wants nothing more than to go home alive, but the more he tries to inject free will or control into his military life, the more chaos ensues.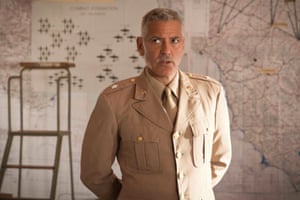 Facebook[url=https://twitter.com/intent/tweet?text=Catch-22 review %E2%80%93 George Clooney%27s dizzying%2C daring triumph&url=https%3A%2F%2Fwww.theguardian.com%2Ftv-and-radio%2F2019%2Fmay%2F16%2Fcatch-22-review-george-clooneys-dizzying-daring-triumph%3FCMP%3Dshare_btn_tw%26page%3Dwith%3Aimg-2%23img-2]Twitter[/url][url=http://www.pinterest.com/pin/create/button/?description=Catch-22 review %E2%80%93 George Clooney%27s dizzying%2C daring triumph&url=https%3A%2F%2Fwww.theguardian.com%2Ftv-and-radio%2F2019%2Fmay%2F16%2Fcatch-22-review-george-clooneys-dizzying-daring-triumph%3Fpage%3Dwith%3Aimg-2%23img-2&media=https%3A%2F%2Fmedia.guim.co.uk%2F5e5c17f8ab39def5f364992de007551c45a9ab3e%2F0_0_6000_4000%2F6000.jpg]Pinterest[/url]
 George Clooney in Catch-22. Photograph: Philippe Antonello/Hulu
It's quite a famous catch, and Clooney's adaptation is immediately impressive – visually deserving of a bigger than a laptop screen – with a cohesive, arid palette and shots ranging wildly in scope from resonant closeup to sweeping landscape. But it takes a couple of episodes to settle into the show's polarizing rhythm, which is less a film-making issue than the high-level entry to the source material's cunning conceit. A story about the seesaw of insanity, filtered through detached ridiculousness and aesthetic of a Mediterranean vacation, isn't exactly accessible in the first 30 minutes; like Yo-Yo and Clevinger's punishment in training – carrying buckets along the edge of a circle – it's not easy to pinpoint where the loop starts and ends. Only when you calibrate to its repetitive satire do the points in Catch-22's yo-yoing seriousness become clear – just in time to realize, by the third episode, that it's not a circle after all, but a downward spiral.
Abbott, as the star, is a slow burn but ultimately fascinating as the frustrated Yo-Yo, his every grimace grounding the show's destabilizing ridiculousness. Catch-22 is indisputably well-made, and above all a smart show, perhaps too smart for its own good – every shot feels considered, every head-spinning layer worth talking out to make sense of it.
Whether all those parts add up to compelling TV is, given Catch-22's swift tone shifts, less a question of the show than what the audience wants from TV. It's easy to imagine how some would find the brutal, nihilistic irony of the story grating, though if it were otherwise then it wouldn't be an adaptation of Catch-22. The show spins ridiculous conversations into humor but pulls no punches with gore. And unlike other recent Hulu series such as Ramy or Shrill, or other portrayals of the second world war, Catch-22 doesn't delve into character studies; though Clooney was wise to stretch the adaptation into six episodes, even Yossarian barely has a backstory, better to foreground his vacuous, unwinnable struggle but not for casual viewing.
That cycle can make you dizzy, and the dizzier you get – the more you align with Yo-Yo's claustrophobic hamster wheel – the easier it is to keep going. It's not for everyone, but as TV binge catches go, it's close to the best there is.
[/size]


Catch-22 starts on Hulu on 17 May with a UK date to follow


annemarie

Zip a dee Clooney!




Posts

: 7692


Join date

: 2011-09-11



https://www.sltrib.com/artsliving/2019/05/17/scott-d-pierce-george/
[size=38]Scott D. Pierce: George Clooney's 'Catch-22' is terrific, and he's still the same great guy[/size]
(Photo courtesy Philippe Antonello/Hulu) George Clooney stars at Lt. (later General) Scheisskopf in "Catch-22."
>

By Scott D. Pierce
 · Published: 29 minutes ago 
Updated: 29 minutes ago
George Clooney was surprised, back in January, to learn that "Grey's Anatomy" was about to supplant "ER" as the longest-running medical drama in TV history.
"That's got to stop!" he said with mock outrage. "We've got to go back and do some more."
This came as he was surrounded by a group of reporters who were there to talk to him about his six-part adaptation of "Catch-22," which starts streaming Friday on Hulu. A publicist kept telling us — at least a dozen times — that Clooney had to be elsewhere and we'd just asked our "last question," but Clooney ignored her and just kept answering.
I've always loved Clooney. He's always been open, funny, charming, unfailingly polite and astonishingly patient.
Sure, he wanted to promote "Catch-22" — he's an executive producer, a director and he stars as Lieutenant, later General, Scheisskopf. And it's a great miniseries that captures the hilarity and horror of Joseph Heller's subversive 1961 novel about the insanity of World War II.
It centers on Capt. John Yossarian (Christopher Abbott), a B-25 bombardier who's trying to remain sane as he tries to survive long enough to make it home.
It's not just the enemy who could prevent that; it's also officers like the parade-obsessed Scheiskopf and Col. Cathcart (Kyle Chandler), who keeps raising the number of missions that crews have to fly to be rotated back home.
And, by the way, Chandler is another of Hollywood's amazingly good guys. Maybe less shy than he seemed in 1991, when he was a virtual unknown starring in "Homefront," but he still has the same sort of ease, earnestness and humor. You almost believe him when he says he brought Clooney "coffee every morning" during production.
"Catch-22" is funny and dark simultaneously. The production values are amazing, and the performances and direction (Clooney, Grant Heslov and Ellen Kuras each helm two episodes) are great. It's terrific television.
Clooney's character is a pompous jackass; Clooney is anything but. Abbott joked that he went to IMDB.com to look him up and "It was, like, 'Oh, you've done a lot.' I didn't know." Clooney came back quickly:
"I've been working for a long time now. I'm very famous," he said smoothly. "Big, big star. You just didn't know that. You're too young."
Only Clooney — and maybe Tom Hanks — could say that without a hint of ego, just self-deprecating charm.
He seems like same guy I remember chatting with one-on-one nearly 27 years ago, when he was starring in a short-lived police drama, "Bodies of Evidence." At the time, George's father, Nick Clooney, was anchoring the news at KSTU-Channel 13 in Salt Lake City, and I asked George if he wanted me to tell his dad anything when I got home.
"Tell him I was really drunk and there were women hanging all over me," George said with a laugh.
Neither was true. This was pre-"ER," and — though he had a long list of TV credits (including "Roseanne" and "Facts of Life") — his career hadn't taken off yet. That happened two years later with the debut of what is now the second-longest-running medical drama in TV history.
"'ER' was a nutty moment in my career, but also in the lives of a bunch of actors," Clooney said. "There were six of us who suddenly were thrust into the stratosphere, and it was life-changing for all of us."
Since then, he's won a couple of Oscars (with four more nominations), starred in movies like "The Descendants," "Syriana," "Michael Clayton" and "Ocean's Eleven," "Twelve" and "Thirteen"; directed movies like "Good Night, and Good Luck" and "Monuments Men" — and, yes, become a "big, big star."
But not too big to joke about himself, and about making some new episodes of "ER."
"Don't you think that's a good idea? I'd play a patient now," Clooney said.

annemarie

Zip a dee Clooney!




Posts

: 7692


Join date

: 2011-09-11



https://www.latimes.com/entertainment/tv/la-et-st-catch-22-hulu-review-20190516-story.html?utm_source=feedburner&utm_medium=feed&utm_campaign=Feed%3A+latimes%2Fsports%2Fhockey%2Fnhl+%28Los+Angeles+Times+-+Hockey%29
[size=44]Review: Why George Clooney's 'Catch-22' for Hulu may make you yell at the screen
By ROBERT LLOYD
[/size]
[size]
MAY 16, 2019 
|
12:00 PM
 [/size]


Yossarian (Christopher Abbott) is starkly out of uniform in a scene from the Hulu miniseries "Catch-22." (Philippe Antonello / Hulu)

Adaptation is interpretation, and interpretation by definition generates disagreement; no matter how well-supported the reasoning, I may never understand just why it is you chose to portray Oliver Twist as an 80-year-old woman or have Hamlet deliver his speeches backwards.
Nespresso spokesperson George Clooney, properly back on the small screen after a couple of decades, and his producing partner Grant Heslov, have turned Joseph Heller's 1961 satirical World War II novel "Catch-22" into a six-part miniseries, debuting Friday on Hulu. Produced and partially directed by Clooney and Heslov along with Ellen Kuras, and written by Luke Davies ("Lion") and David Michôd (the Australian film "Animal Kingdom"), it departs substantially from its print original.
Sometimes, this is for the practical reasons that any translation of a sprawling, densely populated book demands. But it also differs in spirit: If a friendlier, more dramatically and morally conventional "Catch-22," with a more relatable central character — the bombardier Yossarian (a solid Christopher Abbott), who only wants to get out alive, in the face of the Germans shooting at him from below and the superior officers oppressing him from above — is what you desire, this is it. Such a thing is, admittedly, not on my wish list, nor does this adaptation convince me it should have been.
Granted, "Catch-22" is as difficult to put onscreen, in its way, as James Joyce's "Ulysses,"since so much depends on language, and the illogical logical tricks you can play with it. ("He did not hate his mother and father, even though they had both been very good to him" is a typical Heller twist of thought.) There is a character in the book named Major — — de Coverley who in the TV adaption (where he's played by Hugh Laurie) loses his redacted first names. A plane that "disappears into a cloud," permanently, in the book, is just another casualty here.
[size=19]ALSO: Why Joseph Heller's 'Catch-22' is a relevant antiwar satire in the age of Trump »
Mike Nichols, with Alan Arkin as his Yossarian, took a starry, big-screen crack at it in 1970 — less than a decade after the novel's publication, and at a time when its themes jibed with the Vietnam anti-war movement — and was not successful, though his film does a better job than the present series at catching the book's tonal shifts, from absurdist comedy to bleak poetry. There was also an unsold 1973 TV pilot, currently available online, featuring Richard Dreyfuss, clearly made under the influence of "MASH," which, of course, had been made under the influence of "Catch-22."


Daniel David Stewart, left, Kyle Chandler, right, and two young costars in "Catch-22." (Philipe Antonello / Hulu)

Here, Davies and Michôd have taken the novel's curlicue structure, which jumps around in time on the hinge of a stray thought, and straightened it out into a conventional chronology. This is sensible enough, though viewers have proved pretty adept at dealing with the flashbacks and flash forwards, not to say parallel realities and multi-level dream states, which more than a few modern television series employ.
The idea seems to have been to render a fairly realistic, even sentimental version of the book's narrative highlights, with occasional brief forays into its Marx Brothers absurdities. There are some admirable things in the series, some of which reflect the source material, and some of which work on their own terms, but generally speaking, the better you know the book, the more likely you are to yell at the screen, in the later episodes especially. Where it strikes off on its own, whether in dialogue or wholly new scenes, it tends to get obvious and flat.
The book spends a lot of time in its people's heads — all but a few of its chapters are named for a character — but, apart from Yossarian, the series hangs around on the outside; most characters are barely developed. As a result, the fear and striving that characterize the show's superior officers — Clooney's parade-obsessed Lt. Scheisskopf (the name is a rude word in German) and Kyle Chandler's Col. Cathcart, who keeps raising his squadron's required number of missions — are only fitfully glimpsed. But each actor is at his best in scenes where his character is in the presence of someone who scares them. Their spittle-flecked ranting is less persuasive.
ALSO: 'The Big Bang Theory' is ending, but we shouldn't let multi-cam sitcoms die. Here's why »
For a contemporary reader, the novel's great obstacle is its treatment of women, who exist mainly as sex objects, whether they're nurses, WACs or prostitutes. That's not to say all are devoid of dimension or agency — indeed, they can make the men look like dopes — but some of what the book treats lightly would be rightly recognized as sexual assault today. Still, apart from Tessa Ferrer's Nurse Duckett, who becomes a bemused foil to the sometimes goldbricking Yossarian, the solution here, such as it is, has been not to round out Heller's models but just to push the female characters into the background, or eliminate them altogether. (This also has the perhaps intended effect of making the male characters come off better.) The woman known in the book only as "Nately's lady of negotiable affection" gets a name here, and a certain tangential respectability — Nately (Austin Stowell) has practical plans to settle down with her — but she is also essentially an extra.


George Clooney, left, Christopher Abbott and Pico Alexander in "Catch-22." (Philipe Antonello / Hulu)

The flight scenes are convincingly executed, with fleets of bombers navigating oceans of flak, and the dark drama of the pivotal scene focused on the wounded flyer Snowden (Harrison Osterfield) is well-handled. But the series is at its best when it most directly conveys the novel's lunacy, the "Who's on First?" bureaucratic reasoning that finds full flower in Catch-22 itself, a rule for all seasons — and a term that people who have never read the book use regularly — whose most famous expression is that any flier who is crazy can be grounded, but only if he asks to be; yet asking only proves his sanity, and so he must continue to fly.
Similarly, there is Maj. Major Major Major (Lewis Pullman), who will never see anyone when he's in his office, though visitors can go right in when he's out. Above all, there are the scenes involving Milo Minderbinder (an excellent Daniel David Stewart), the war-profiteering mess officer, whose exploits are so fantastic that there is no way to reduce them to ordinary drama; the miniseries does well by him.
Inevitably, much is left out. Sadly, some of that saved screen time is given over to problematic elaborations and inventions. These include a trip with Milo to Oran, which puts Yossarian and his tentmate Orr (Graham Patrick Martin) into tuxedos, in which the former is called upon to impersonate an industrialist; an idyll in an Italian country town, in which a wounded, recovering Yossarian, dressed in farmer's clothes, flirts with a farmer's daughter; a scene in which Clooney's Scheisskopf examines Yossarian's testicles in order to assess his claims of injury; and an ending markedly different from Heller's, which you will just have to see when, and if, you get there.
[/size]

annemarie

Zip a dee Clooney!




Posts

: 7692


Join date

: 2011-09-11



Very, very happy about these reviews. Can't wait to see the show.

Doug Ross

Ooh, Mr Clooney!




Posts

: 862


Join date

: 2012-03-23



Me too Doug Ross. Does anyone here have Hulu? I forget what media outlet overseas is televising it.

Donnamarie

Happy Clooney-looney!




Posts

: 5430


Join date

: 2014-08-26


Location

: Washington, DC




---
Permissions in this forum:
You
cannot
reply to topics in this forum