Free Webmaster Tools
Submit Express

This is the easiest thing in the whole wide world and there's no excuse for anyone not doing this!
Let's suppose you wanted to add a link from a story in the Daily Mail website to this forum. You would do it like this:
1. Go to the website
2. Copy the address (the bit that begins http://www. . . . . . . ) by highlighting it and right clicking, then choosing 'copy'. Make sure you get all of the address because sometimes they can be a bit long.
3. Come back to this forum
4. Just paste that address in your post (right click and choose 'paste'). The computer will automatically make it clickable for you.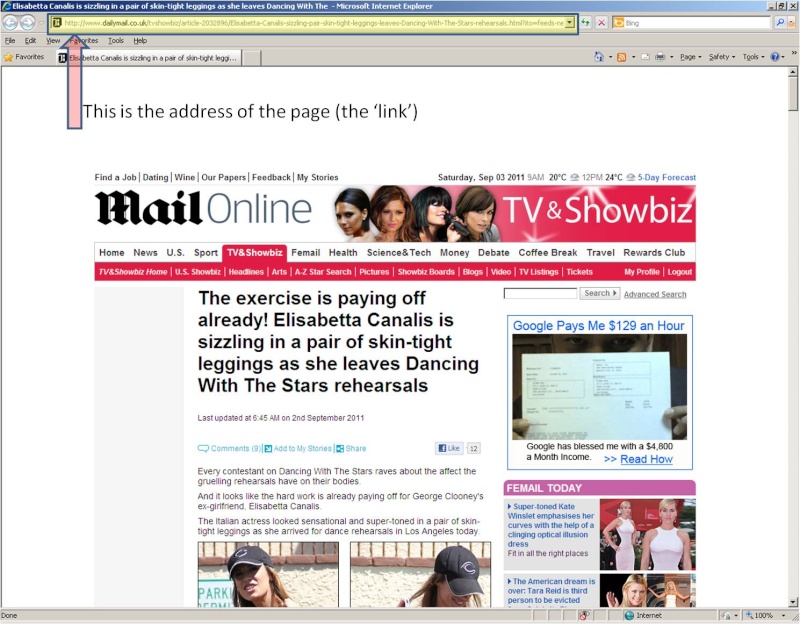 Katiedot

Admin




Posts

: 13224


Join date

: 2010-12-05




it's me

George Clooney fan forever!




Posts

: 18101


Join date

: 2011-01-03



Next step. Please
don't
just stop at posting the link. Please continue on and post the actual story. Again, it's incredibly easy so no reason not to be doing this.
There are several reasons why I'd like you to include the actual story itself:
Firstly, it's just much more convenient for everyone on this site to be able to read what we're talking about right here in the forum instead of having to click through to another site.
And secondly some sites update, move, change or delete their information quickly. If you go back and look at older discussions you'll often find the links to the story being discussed no longer work and you'll have no idea what's being discussed.
How to copy an article from one site to the forum:
1. Select all the text on the site (left click with your mouse then scroll down the page. When you've got it all, right click your mouse and choose 'copy')
2. Come back to the forum and paste the story into your post (right click on your mouse and select 'paste')
3. To make the article you've pasted look neater, make sure you include it
inside
quotes, like this: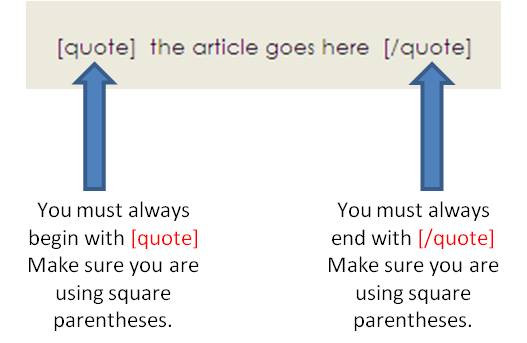 You MUST begin the article by using the
quote
instruction and you must end it by using
/quote
instruction. If you randomly thow in
quote
or
/quote
in the middle of the text, the computer won't know what to do!
Please remember that all instructions to the computer must go inside square parentheses: [ or ] as in my example above. It won't work if you use the wrong shape parenthesis.
Last edited by Katiedot on Sat 03 Sep 2011, 09:02; edited 2 times in total

Katiedot

Admin




Posts

: 13224


Join date

: 2010-12-05




it's me

George Clooney fan forever!




Posts

: 18101


Join date

: 2011-01-03



Katie - I thank you. Am making a notebook with "How To" instructions. Maybe even someone as computer challenged as I am can do this. You make it look easy.

blubelle

Ooh, Mr Clooney!




Posts

: 959


Join date

: 2010-12-22



I agree Blubelle! In my case, maybe old dawgs CAN learn new tricks!

melbert

George Clooney fan forever!




Posts

: 19323


Join date

: 2010-12-06


Location

: George's House




---
Permissions in this forum:
You
cannot
reply to topics in this forum