party animal - not!

Clooney valentine




Posts

: 11879


Join date

: 2012-02-16



[size=48]George Clooney on growing old, putting on a suit again, and his hopes but lack of optimism for COP26
The actor, director and environmentalist tells Sky News that it's "dumb to try to hold on to things that you aren't anymore" at the UK premiere of The Tender Bar.

Claire Gregory
Entertainment reporter @claireskynews
Monday 11 October 2021 07:20, UK
[/size]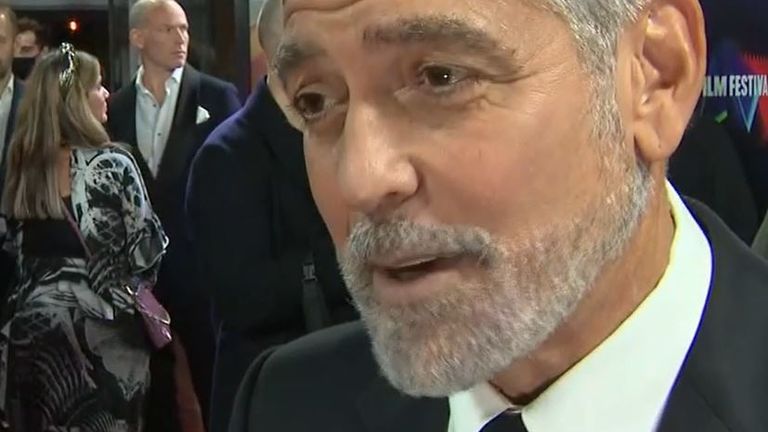 Clooney 'not optimistic' about climate summit


[url=https://www.facebook.com/sharer/sharer.php?u=https%3A%2F%2Fnews.sky.com%2Fstory%2Fgeorge-clooney-on-growing-old-putting-on-a-suit-again-and-his-hopes-but-lack-of-optimism-for-cop26-12431113&t=George Clooney on growing old%2C putting on a suit again%2C and his hopes but lack of optimism for COP26][/url]





Why you can trust Sky News 
George Clooney has told Sky News he's "hopeful" but "not all that optimistic" that meaningful change will come out of COP26, the UN's climate change conference, at the end of the month.
While the American actor, director and environmentalist acknowledges the US's failings when it comes to environmental policy, he also says he's not confident the summit, which will be held in Glasgow from 31 October, will lead to much progress.

"There's a better chance here than we've had in the United States recently because our Congress lives in a bit of a state of denial," he said.

Subscribe to the Backstage podcast on Apple Podcasts, Google Podcasts, Spotify, Spreaker
"It used to not be a political situation, Nixon used to do something about this, quite honestly, so I'm disappointed with the way and the direction that our Congress has gone.
"I'm hopeful that more will be done here, I think some will, but I'm not, I'm not all that optimistic about it - I don't know, I'd like to be, I'm a pretty optimistic guy."
The star was speaking at the UK premiere of The Tender Bar, which he directed.

M
George Clooney
The movie is a coming-of-age story based on a memoir by J R Moehringer, an American journalist who won a Pulitzer Prize.
One of the lead roles, played by Ben Affleck, would have once been Clooney's - something the filmmaker, who recently turned 60, is philosophical about.
"The only thing you can do that's dumb is try to hold on to things that you aren't anymore, right? You know, there was a picture, I was in Italy and somebody took a picture of me - I think it was a paparazzi picture on the boat, and I saw this old, grey-haired guy on the boat and I was like 'who is that?' And it was me!'" he said.
"If you don't really have some understanding of time and ageing, then I think you'll constantly try to do things that you know are past your due date.
"I'm really enjoying it, I don't mind, it's fun to watch Ben step into a role that 15 years ago I would have felt right for."
[size=18][size=16]Image:
Clooney says he's enjoyed watching Ben Affleck play a role that 15 years ago he would have felt right for
[/size][/size]
Production on The Tender Bar was impacted by the COVID-19 pandemic, and Clooney says like everyone else that his world has been changed by the events of the last 18 months.
"It changed everybody, right? Suddenly, we think Zooming is OK, I haven't seen anybody in person - it's the first time I've put on a suit in two years... I was afraid it wouldn't fit," he said.
"It changes a lot, it's harder as a filmmaker because you're not able to communicate in the same way because you're wearing all this crap (PPE).
"But you know, it's a funny thing, it also reminds us of how resilient we are - I just saw a picture of all these kids during the London Blitz, and they're all wearing those huge gas masks, 500 kids with those gas masks, and you go 'well, if they could do it, we can do it - we'll figure it out'."
The Tender Bar will be released in select cinemas in December, and will stream on Amazon Prime Video in January 2022.

annemarie

Over the Clooney moon




Posts

: 10009


Join date

: 2011-09-11



So this is everywhere this morning...........
https://variety.com/2021/film/news/george-clooney-daily-mail-child-photos-open-letter-1235105545/

party animal - not!

Clooney valentine




Posts

: 11879


Join date

: 2012-02-16



[list="o-nav-breadcrumblist__list lrv-a-unstyle-list lrv-u-flex lrv-a-space-children-horizontal lrv-u-align-items-center lrv-u-a-unstyle-list lrv-u-flex a-children-icon-spacing-0 lrv-u-align-items-center a-children-icon"]
[*]HOME
[*]FILM
[*]NEWS
[/list]




Nov 4, 2021 9:39pm PT


[size=31]George Clooney Calls on Daily Mail to Stop Publishing Pictures of Celebrities' Children
By William Earl
Plus Icon
[/size]
George Clooney has issued a call for the U.K. tabloid the Daily Mail and other outlets to stop publishing pictures of celebrities' children, calling it a matter of safety.
Clooney issued "an open letter to the Daily Mail and other publications" on Thursday after asserting that he saw pictures of the 1-year-old son of actor Billie Lourd on the website of Daily Mail. Lourd's son Kingston is the grandson of the late actor Carrie Fisher and CAA managing director Bryan Lourd. He is the great-grandson of movie legend Debbie Reynolds and singer-actor Eddie Fisher.
Clooney flatly stated that his own children are threatened by intrusive photos of celebrity-hunting photographers because his wife, Amal Clooney, works as a human rights lawyer and because of his high profile as an Oscar-winning actor.


"We cannot protect our children if any publication puts their faces on their cover," he wrote.





A representative for the Daily Mail could not immediately be reached for comment late Thursday. Clooney's letter also states that the Lourd pictures that sparked his letter were ultimately removed from an online platform.

An open letter to the Daily Mail from George Clooney:
Having just seen photos of Billie Lourd's 1 year-old baby in your publication, and the fact that you subsequently took those pictures down, we would request that you refrain from putting our children's faces in your publication. I am a public figure and accept the oftentimes intrusive photos as part of the price to pay for doing my job. Our children have made no such commitment. The nature of my wife's work has her confronting and putting on trial terrorist groups and we take as much precaution as we can to keep our family safe. We cannot protect our children if any publication puts their faces on their cover. We have never sold a picture of our kids, we are not on social media and never post pictures because to do so would put their lives in jeopardy. Not paranoid jeopardy but real world issues, with real world consequences.
We hope that you would agree that the need to sell advertisement isn't greater than the need to keep innocent children from being targeted.
Thank you,
George Clooney

annemarie

Over the Clooney moon




Posts

: 10009


Join date

: 2011-09-11



I have a problem calling George an environmentalist, with his constant use of private planes and yachts .... let the debates and comments begin

PigPen

Training to be Mrs Clooney?




Posts

: 2399


Join date

: 2014-05-20



Ha-ha - totally agree, Pigpen - the editor was clearly looking for a reaction from readers to
support more advertising.
But actually he is doing a bit - the house in Sonning has solar panels on the roof and extension, and he funded similar on the community hall roof
https://www.mirror.co.uk/3am/celebrity-news/george-clooney-donates-1000-pay-9063269
The Mill Theatre next door is completely self supporting in energy from water power from the Mill's watermill and he's helped with that. 
And he will have to recycle all his different packaging, rubbish etc into the bins supplied by the councils who collect it, so he's probably quite aware of the initiatives in the UK. I've also noticed  that Amal wears quite a lot of Stella McCartney's ethical fashion.
A start I guess. He might have electric cars now (we will only know by the badging) and next stop - an electric plane?

party animal - not!

Clooney valentine




Posts

: 11879


Join date

: 2012-02-16



Ps It would be quite good if he could do something about Nestle taking millions of gallons of California's river water and selling it with the trademarks they own to make even more profit. 

But I believe there is a lawsuit now to stop them.......

party animal - not!

Clooney valentine




Posts

: 11879


Join date

: 2012-02-16



[size=36]George Clooney donates £1,000 to pay for solar panels in village where he owns £10million millhouse
The Hollywood actor, who bought the mill in 2014 after he married Amal, gave cash towards the fund that should reduce electricity bills in the small village
George and lawyer Amal bought their £10million millhouse after they got wed in Venice

 (

Image: Getty)
[/size]


By
Mirror.co.uk

Hollywood star George Clooney has donated £1,000 out of his own pocket to help pay for 'eco warrior' solar panels on a village hall roof.
The ray-absorbing green energy panels should trim council tax bills in Sonning on Thames - where George lives with wife Amal in a £10million millhouse in the centre of the leafy Berkshire village.
He has four other homes - a pair of villas in Italy, a holiday beach house in Mexico, and a property in Los Angeles.
There's no word yet that another famous Sonning resident, Prime Minister Theresa May , has put her hand in her purse to contribute.
Hall trustees George Englefield, Beth Timms and David Woodward with new solar panels in the background ( 
Image: 
Wessex News Agency)
Council chairman David Woodward today revealed that he pushed some literature about Sonning through the couple's letterbox as a 'welcome' pack, and was amazed to get a call the very next day from George's PA, promising a donation.
[size=20]Amal Clooney would be 'delighted' to prosecute Syrian president Bashar al-Assad for war crimes
The pack contained information on the hall trustees' appeal to raise funds for solar panels, and the Clooneys duly handed over £1,000.
Thanks to other gifts and fundraising efforts, the fourteen roof panels are now in place so the Clooneys, Mrs May and other villagers can now look forward to reduced council tax bills - as long as the sun keeps shining.
The village hall in Sonning on Thames before the panels were fitted ( Image: Wessex News Agency)
Mr Woodward said it's hoped the panels will produce about £400 worth of electricity a year.
One of the trustees, Beth Timmins, said "The panels will greatly help in lowering the hall's electricity costs, benefiting users including the popular Kingfisher Kindergarten, which is badsed at the hall.
"The TechforEnergy team who fitted the panels volunteered to work over the weekend to avoid inconveniencing our regular bookers."
The centre of Sonning on Thames ( Image: Wessex News Agency)DON'T MISS
[/size]
[list=recirculation__list]
[*]
[/list]
George Clooney cosies-up to glamorous wife Amal at star-studded Los Angeles fundraiser bash
Now villagers hope George - and the Prime Minister - will raid their piggy banks again to help pay for a much bigger project.
The trustees plan to do up the hall, with a new entrance, a sun room, a kitchen and toilets, with underfloor heating, with the work likely to cost at least £400,000.
South Oxfordshire district council has pledged half if the trustees can raise the rest from the village and well-wishers.
Ocean's Eleven movie star George, 55, bought the mill for £10million in October 2014 after he and lawyer Amal got married in Venice.

annemarie

Over the Clooney moon




Posts

: 10009


Join date

: 2011-09-11



Nice gesture. George continues to support local causes. I bet he'll donate to the fund to upgrade the village hall as well.

Interesting that they list a "holiday beach house" in Mexico. Either they didn't do their homework (likely) or they did build a new place outside Cabo. Also, how come nobody ever mentions his house in Kentucky?

LizzyNY

Zip a dee Clooney!




Posts

: 7737


Join date

: 2013-08-28


Location

: NY, USA



Kentucky is grand enough.

annemarie

Over the Clooney moon




Posts

: 10009


Join date

: 2011-09-11



---
Permissions in this forum:
You
cannot
reply to topics in this forum