Free Webmaster Tools
Submit Express
https://www.dailymail.co.uk/wires/afp/article-6912667/Clooney-says-Bashir-toppling-not-Sudan.html

https://www.afp.com/pt/noticia/854/george-clooney-diz-que-queda-de-bashir-no-sudao-e-insuficiente-doc-1fk5od2

Points to the Fail for publication of this from the wires

party animal - not!

Clooney valentine




Posts

: 11301


Join date

: 2012-02-16



https://www.dailymail.co.uk/wires/afp/article-6912667/Clooney-says-Bashir-toppling-not-Sudan.html
[size=34]Clooney says Bashir toppling not enough for Sudan[/size]
By AFP
PUBLISHED: 12:02 EDT, 11 April 2019 | UPDATED: 12:02 EDT, 11 April 2019


+1


Actor and activist George Clooney, seen here in 2018, says that the toppling of Sudan's veteran leader Omar al-Bashir is not sufficient
Actor and activist George Clooney said Thursday that the fall of Sudan's veteran strongman Omar al-Bashir was not enough and called for the dismantling of the military-led system.
The Hollywood heartthrob, who has been arrested protesting against Sudan's campaign in Darfur that the United States described as genocide, called for Bashir to be extradited and prosecuted for war crimes by the International Criminal Court.
"The people of Sudan have been waiting for this day for a long time, but it is only a tentative first step towards real change," Clooney said in a joint statement with John Prendergast, the human rights campaigner with whom the actor founded The Sentry Project, which researches illicit money and war crimes in Africa.
The two said that Defense Minister Awad Ibnouf, who announced Bashir's detention and declared two years of military rule, was just as deeply involved in the bloody, racially tinged war in Darfur.
"Removing the leader of a violent, corrupt system without dismantling that system is inadequate," they said.
"The next steps are crucial. The international community must provide all possible support to ensure that the transition is a negotiated and inclusive one, and that the next president of Sudan reflects the will of its people," they said.
Bashir, who swept to power in a 1989 coup, was one of Africa's longest-serving leaders but has faced months of mounting protests, triggered initially by a hike in the price of bread.
ADVERTISEMENT
Clooney says Bashir toppling not enough for Sudan

annemarie

Clooney superfan




Posts

: 9473


Join date

: 2011-09-11



.....so the man who has ousted Bashir is the same guy who led the Sudanese army and atrocities in Darfur....

https://www.youtube.com/watch?v=GOUzd0TC-xE

party animal - not!

Clooney valentine




Posts

: 11301


Join date

: 2012-02-16



George won't be happy about that.

annemarie

Clooney superfan




Posts

: 9473


Join date

: 2011-09-11



Yep annemarie. Seems like this move by the military is trading one corrupt regime for another. I guess my initial read of this story yesterday was too optimistic. I read that John Prendergast said in essence having the new regime oversee a transition 'is like having the foxes oversee improvements to the henhouse.'

Donnamarie

Clooney, Clooney, Clooney




Posts

: 5711


Join date

: 2014-08-26


Location

: Washington, DC




And now this news.........

https://www.bbc.co.uk/news/world-africa-47913338

Must be reading here!

party animal - not!

Clooney valentine




Posts

: 11301


Join date

: 2012-02-16



LOL PAN! Well they should be! If more women ran these countries maybe things would be quite different ...

Donnamarie

Clooney, Clooney, Clooney




Posts

: 5711


Join date

: 2014-08-26


Location

: Washington, DC



Sudan coup leader Awad Ibn Auf steps down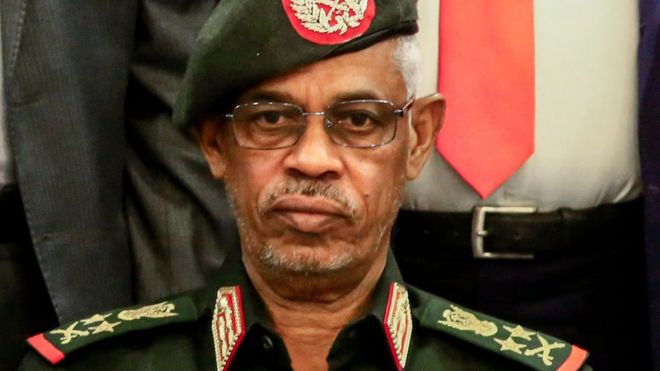 Image copyright
AFP
The head of Sudan's military council has stood down a day after leading a coup that toppled long-time leader Omar al-Bashir amid a wave of protests.
Defence Minister Awad Ibn Auf announced his decision on state TV. He named as his successor Lt Gen Abdel Fattah Abdelrahman Burhan.
It comes after protesters refused to leave the streets, saying the coup leaders were too close to Mr Bashir.
The army has said it will stay in power for two years, followed by elections.
Mr Bashir's downfall followed months of unrest that began in December over rising prices. At least 38 people have died in the protests.


Sudan unrest: The key questions

How Sudan's strongmen stayed in power

Mr Ibn Auf was head of military intelligence during the Darfur conflict in the 2000s. Mr Bashir has been indicted by the International Criminal Court (ICC) on charges of war crimes and crimes against humanity over that conflict.
What happened on Friday?
Despite the removal of Mr Bashir on Thursday, demonstrators refused to disperse, camping out outside the army headquarters in the capital, Khartoum, defying a curfew declared by the military.
They are demanding a transition to civilian rule before they return home.
On Friday, a spokesman for the military council said the army was not seeking power and Sudan's future would be decided by the protesters - but said the army would maintain public order and disturbances would not be tolerated.
The military council also said it would not extradite Mr Bashir to face the ICC charges - which he denies.
It has imposed a three-month state of emergency, with the constitution suspended.
Related Topics

annemarie

Clooney superfan




Posts

: 9473


Join date

: 2011-09-11



---
Permissions in this forum:
You
cannot
reply to topics in this forum