Free Webmaster Tools
Submit Express
http://www.crawleynews.co.uk/George-Clooney-play-Widow-Twankey-year-s-Crawley/story-20887034-detail/story.html
George Clooney to play Widow Twankey in this year's Crawley pantomime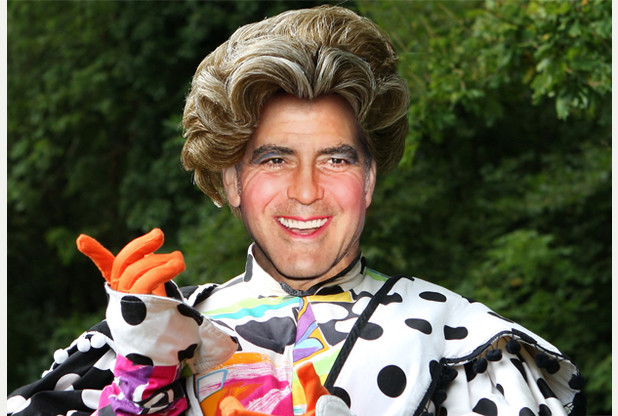 HOPING TO OUTDO LES DENNIS: George Clooney in the Widow Twankey outfit he will wear in Crawley's panto this Christmas
HOLLYWOOD superstar George Clooney has sensationally agreed to star in this year's pantomime at The Hawth theatre.
The star of films such as Gravity, Ocean's Eleven and Up In The Air will play Widow Twankey in a production
 of Aladdin.
By appearing in Crawley's Christmas panto he will be following in the footsteps of previous Hawth panto favourites Julian Clary, Les Dennis and The Chuckle Brothers.
Clooney, 52, is understood to have wanted to star in a traditional British panto ever since being blown away by a performance
 of Jack and the Beanstalk, featuring Timmy Mallett and Badger out of Bodger and Badger, in Skegness, during a boys' weekend away with A-list pals Brad Pitt and Leonardo DiCaprio.
It is understood that Clooney has even promised producers that he can persuade Matt Damon to play Aladdin and Cameron Diaz to star as Princess Jasmine.
Normally Clooney would expect to command a huge fee for such a performance.
But such is his burning desire to perform in a panto that he has agreed to perform for free.
His only demands are that his name is on promotional posters in "really big letters" and that he gets to take his Widow Twankey outfit home
 with him at the end of each day.
A spokesman for the theatre said: "When George approached us we just couldn't say no.
"We had been hoping to secure that bloke off Fun House
, Pat Sharp, or Orville the Duck for the role but both were making unrealistic demands.
"Orville, in particular, was a real diva and was demanding burlesque dancers in his dressing room every night and wanted dozens of costume changes written into the script as he didn't want to wear the same nappy on stage for more than ten minutes.
"And he even asked that our restaurant only served food beginning with the letter 'O' for the duration of panto season.
"We considered it but do you realise how few foods begin with the letter O? It would have basically left us with oranges, olives and Oreo biscuits."
With Clooney signed up tickets are expected to sell fast
 when they go on sale.
But if sales don't go as well as expected it is understood that Clooney has agreed to take his top off for anyone who buys more than two tickets.
Last edited by Nicky80 on Tue 01 Apr 2014, 23:43; edited 1 time in total

Nicky80

Casamigos with Mr Clooney




Posts

: 8561


Join date

: 2013-05-01


Location

: Germany



Do you think this is true??....sounds so fake but maybe because I never heard about it. So maybe I'm wrong here...

Nicky80

Casamigos with Mr Clooney




Posts

: 8561


Join date

: 2013-05-01


Location

: Germany



perhaps its an April Fools joke?

theminis

Moderator




Posts

: 6088


Join date

: 2012-02-29


Location

: Oz



.....100% certain it is !

Joanna

George Clooney fan forever!




Posts

: 19431


Join date

: 2011-11-17


Location

: UK



theminis wrote:perhaps its an April Fools joke?
I think it is. I read another tweet late last night that had to also be an April Fools joke.

Mazy

Achieving total Clooney-dom




Posts

: 2883


Join date

: 2012-11-03



Oh God...how much can a fan take!
Does Katie have any other Open Houses wondering?
He will not  GC live this down...this is going to be my Avatar for ever more! Americia's answer to Dame Edna!
Stop trying to trick us fans...do we look stupid?????????  

NewFanForever

Shooting hoops with George Clooney




Posts

: 307


Join date

: 2014-02-21



---
Permissions in this forum:
You
cannot
reply to topics in this forum