From Frenchies friends
http://www.vogue.it/en/people-are-talking-about/obsession-of-the-day/2014/02/the-monuments-men-in-milan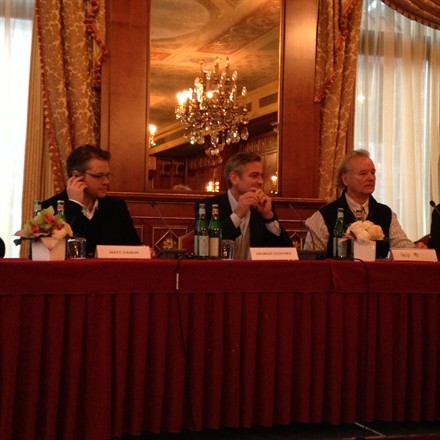 http://www.primissima.it/cinema_news/scheda/la_conferenza_stampa_a_milano_di_monuments_men/
(google translation)
After sending in boiling Littizzetto last night as guests to the transmission of Fabio Fazio, What Time Does that, the protagonists of the Monuments Men , the new film directed by and starring George Clooney , this morning met the press in Milan. Full team over Clooney, from the likeable Bill Murray , Matt Damon , Jean Dujardin , John Goodman , Bob Balaban, Dimitri Leonidas and writer Grant Heslov. Lacked the only female performer, Cate Blanchett , but the group has entertained all present with gags and jokes for which it was difficult to remain serious. The film is set in the years of World War II to tell the true story of an international team of experts and art lovers, who took care to rescue a number of works that Hitler and the Nazis wanted to destroy. A true story very peculiar and curious that the same Clooney co-wrote with Grant Heslov to let the world know a true story, but strangely never made ​​public. The press conference began recalling the bombing of the Abbey of Monte Cassino, which occurred just in February 1944, which led to the formation of the Monuments Men and the beginning of their mission.
Jean Dujardin, the only European cast, said: "I did not know the existence of the Monuments Men, I knew that Hitler was a frustrated painter who wanted to create this Fuhrer Museum. My character is fictional, in reality there was no French in the Monuments Men. Jean Claude was an art dealer in Marseille, which is very honored to be part of this group to have the opportunity to participate in the war. The strength of the film, in my opinion, is represented by its group devoted to this mission. " John Goodman has also confessed that he had never heard the story of the Monuments Men before reading the script and added: "My character is based on a person born in my own city, which has carved a memorial to the soldiers of the War world in the city of Saint Louis. "
Bill Murray, after having given the first laugh at present, reversing its placeholder where, just come in, he wrote 'Help Me', he said: "I knew that at that time all over Paris stealing works of art and that are counted about 5 million objects returned, but many have been destroyed or never found. "George Clooney, director and performer of this story said:" I did not know much about the history, I had seen a documentary that talked about it, but Grant has found this book and made ​​me read. I thought it was possible to make an interesting movie, but I had no idea why no one had ever told. I was glad I took the opportunity to pay tribute to our friends. "
Even Matt Damon has confessed that he was shocked by the fact that he had never heard this story, and her character, she said: "I play the curator of the Met that endangers his life to save these works of art. What is the meaning of art in the essence of our lives? This is the question behind the film. " The press has pointed out that the script of the film is light and very similar to the style of Mash directed by Atlman, in which humor and light hearted are two key points that hold up the whole story. In this regard, Clooney said: "Based on the book we have kept in mind the films that we liked, like The Great Escape, The Warriors, The Guns of Navarone ... also there was a good dose of humor that I liked. So we made ​​a film about art, but without making a civics lesson, we wanted to entertainment. And then, if people like engagements for the cast, they help them to make everything fun. " When you're making a film inspired by a true story, it can be difficult to stage every detail, staying true to reality, but also introducing the new respectful and appropriate to the story. Questioned on this part of the work as a director, Clooney said: "When we were talking about Good night Good luck journalists, on which were written many books and whatever hurt we would have discredited. For this we had to keep data and basic facts, but on the screen trying to make the story more fun, so abbian introduced some problems and flaws of the characters that were not there in reality. However, many crazy things in the movie were true events. "
Jean Dujardin found himself literally surrounded by a cast of real Hollywood stars, to participate in its second American film after his participation in The Wolf of Wall Street by Martin Scorsese . In this regard, he said: "I hope to have brought good humor, passion, spirit ... but it is mainly they who have given me a lot. I was in the small French Monuments Men, but also on the set and this helped me. Working with George, however, is relaxed, he eats apples all day, and also I like it very much! (Laughs) I came into this adventure with humility, I do not expect anything. We'll see ... ".
We could not miss the question about the sudden death of his colleague Philip Seymour Hoffman , to which Clooney replied moved, saying, "We are a community, and he was a big part of this community. It was a bit 'the heart of this community in many ways. Even if you played the leading role in many films, had a central role. Leaves a huge void and I feel greatly missed. " Harry Ettlinger also present in the room, the only survivor of the true Monuments Men, who in the film is played by the young Dimitri Leonidas, who told his fortune to have known the real version of his character. "I have not met Harry during filming, but he sent me a letter in which he told his story, his life and his point of view in those years. On a personal level you want to do your best when you have a chance like this, but I think it is heavier relate to the role to play when you're in front of the real version of your character. " And Clooney added, "Dimitri played Harry and he was a jew then moved to Newark, and saw the portrait of Rembrandt only in the mine. This is a real fact very charming. "
Monuments Men will be in theaters February 13, and George Clooney has closed the conference by stressing an uncomfortable truth: "When a country has economic problems the first thing to suffer is the art. Battle continuous and constant. Hitler not only wanted to possess the art but destroy it. He wanted to erase people as if they had never existed. We can all get into a museum and see a painting that tells us who we are, is a very important thing not to be overlooked. "
Written by Letizia Rogolino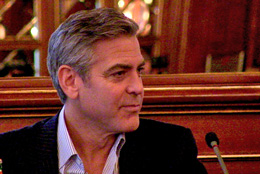 chiki

Clooney Expert




Posts

: 274


Join date

: 2013-05-23



Thanks Chiki for posting  
 ,
here is the google translation of the Q&A from the press conference (les frenchies)
http://www.badtaste.it/articoli/george-clooney-e-il-cast-di-monuments-men-presentano-il-film-milano
We attended the press conference in Milan Monuments Man , the new film directed by George Clooney Release Thursday, February 13th at approximately 400 , practically on the occasion of the 70th anniversary of the Battle of Monte Cassino, on 15 February 1944. 
The meeting was conducted and moderated by Francesco Castelnuovo Sky , there were interpreters Dimitri Leonidas , Bob Balaban , Matt Damon , George Clooney, Bill Murray , John Goodman, Jean Dujardin , producer Grant Heslov and a true Monuments Man alive , the one on which the character of Leonidas .
***
Question for all the cast : Monuments Man is a film that is a story virtually unknown to ourselves that we are at the center of Europe altogether. It was also for you? How did you find your character ?
Goodman : I knew nothing of their existence, outside the script . My character comes from my own city , was one of his sculptures that I knew her , but the story itself does not know so well.
Murray : I knew only what I had told Clooney, but not that it had been a systematic thing . I had no idea that some works had not yet been recovered.
Clooney : I had seen a few films , but it was Grant me all the information after reading the book. I had no idea why none had yet been told loudly and all , it was a great opportunity.
Damon : I also had no idea , my character is based on a real man , and like other Monuments Men has risked his life to the art . It ' was an honor .
Balaban : I knew nothing , and in particular did not know that Hitler voelva destroy everything, and so I thought about how they were heroic . My character was really experienced , like all the Monuments Men.
Leonidas : I did not know it all when I was hired I read the book and then wrote me Harry , I have a letter from him in which he spoke to me of his life. Direct contact with a character is really beneficial when you're playing a someone like him. When you have a direct testimony helps you understand the character.
Bill Murray : Often we have seen in very specific roles , as he faced this role from classic war film albeit with nuances reminiscent of a character from Mash ?
Murray : I'd rather talk about Wes Anderson movie but I'm not good at translating, I did not understand . George eats very healthily , drink a lot more of Wes Anderson , Wes is small , but eating huge amounts of food as if it were to die tomorrow . Why is it important for me as an actor ? Because at least with George if you drink at least know how to deal with the shooting , while Wes if you eat so much you could die . Wes makes art films , and films about George ago and at the end of the day drinking .
George Clooney : It feels a lightness in the dialogues , remember Mash Altman . As he worked on the script after reading the book, especially with regard to dialogues goliardic ?
Clooney : When we started working on the film and I have kept in mind that Grant wanted to do like those movies light on the war . It is also a film about art and we want the audience to have fun and appreciate it , so we kept this in mind . But in the end this could simply cast to see something funny .
For Clooney : He has already made ​​films about true stories. How much space it gives to the imagination ?
Clooney : In Good Night and Good Luck there were books and descriptions on journalists, but in this movie we knew we had to be careful with the historical facts , but not exactly on people. We wanted to take liberties as it happens in all the films Lawrence of Arabia. The flirtation between Matt and Cate ... there is in fact, they are choices that make everything more cinematic . In general, however , many of the things that seem really surreal actually occurred .
For Clooney : In the Ides of March had directed Philip Seymour Hoffman. What do you remember of the person?
Clooney : We are a community , a group of actors and filmmakers , and he had a central role in it. It 's very sad, when I met him was at the heart of the art of our community. Although it was not the protagonist often , actually ended up being central , and when he went away leaving a big hole in the scenes and I think it left a huge void in our community.
For Damon and Balaban : The heart of the film is the defense of culture , but it is more important the defense of culture or the sacrifice of a human life? What do you think about that?
Damon is the question which the Monuments Men have responded with their lives. I have to say that having spent the morning to see the Last Supper ... at the beginning of the film there are Italian citizens who risk their lives to save the Last Supper, is an excellent example.
Balaban : these are all people who could not fight, and who have served their country thanks to their ability, they could not do the soldiers. When you save a work of art subject to the essence of a culture, and they have saved in case a work of art , they have saved many works , a culture.
For Clooney and Damon : What does this project for you, as men?
Damon : I could work with a director I wanted to work , I did well for his career . Personally, I felt lucky to tell a story so important that it gave a message so relevant . I feel grateful to have been part of a great cast .
Clooney: I would say the same thing. I thought the story needed to be told, Hollywood loves making movies about World War II, but this was a new story. In addition to work with my friends I am always happy.
Murray : As Clooney and Damon are friends, there have been favoritism to Damon ? And Damon , what is the good and the bad of working with a friend?
Murray : Matt George has done work with a woman. Favoritism . But she is very good and if he worked with us would have been much prettier and more clever . I do not think George has tried as friend Matt purpose. Many of us consider George a good friend Matt considers it more than that now . Now, however, we all want to work with David O. Russell.
Damon : Working with a friend allows you to not be diplomatic , you solve problems more quickly, gave me notes , advice : "because you're not as good as the other actor here ? " "You mean you? " "Yes , I have no advice just for you and not for me " I learned so much to be humble .
Clooney : I will learn once again that this joke will not work when it is written in the newspapers, and I realize how stupid they are .
Damon : ok, mind you george I've never been treated like this .
For Goodman : confirm what they said on the set?
Goodman : Bill is close to me, then I will confirm everything I just said . E 'was great to shoot the film together.
Grant Heslov : The History of Monuments Men is actually very , very contemporary . Have not yet found all the memorabilia in Washington, there's just been a world conference on the subject. How do you put individual governments regarding this matter, in particular Italy ?
Heslov : Not that Italy 's position has
Damon : Maybe will write another book ?
Robert Edsel ( author of the book behind the film ) : I think that Italy should deal with it because of exports. If Italy will insist on this point, but I think it should also be transparent about the treasures in its museums that maybe that belong to someone else . People before us who risked their lives to save places like the Upper Room , I hope the film raises awareness about the consciences of all .
Leonidas : You are the only one who has known " character." What kind of relationship has been established between you?
Leonidas : I met him for the first time just a few days ago, but thanks to a letter that I wrote , I made ​​contact with him and I knew his biography . As an actor, you always try to give your best in every movie you do, but the fact that there is someone who will see their lives portrayed gives you more responsibility , I'm curious to know how you feel seeing my performance . It ' an incredible story, but it's all true .
Clooney : speaking of accuracy, Dimitry played Harry , and Harry left Germany at age 13 because he was a jew in danger. It ' went to New York , ended up in the army to fight for his new country. Germany was not allowed to see a Rembrandt painting , but then failed to do so during the war.
For Clooney : New ideas for projects with his usual collaborators?
Clooney : No, no, absolutely not gonna work with them. I worked with John in 1988 in Roseanne , Bill , I saw Dujardin win an Oscar , I did 6 movies with Damon , Bob, I've known him forever and I just met Dimitri . Grant and I have been friends for 31 years . I mean, who knows when I will be able to work with them will do it again . Except with Matt .
For Clooney : In addition to the tribute to the past is a reflection on art . What do you think of neglect ? And ' aware of the controversy about our museums , culture is not celebrated as it should ..
Clooney : if a country has economic problems, the first thing we are implementing the cuts to culture . It is no surprise then . But you have to fight so much , we did not do anything to save the museums in Baghdad, and it was a disaster ... Hitler did not want to just steal the works, had also destroyed to clear the culture in addition to killing people , as if there never fossei a culture was connected to them . Before the TV and cinema were the frescoes , and it is thanks to them that we know how we once were . In short , the paintings tell us who we are and it is important for everyone. Especially in difficult times , we must resist and preserve the works .
Based on a true story, the film follows the story of a platoon of the 2nd World War composed of museum directors and art experts chosen by the U.S. government to locate and recover stolen works of art by the Nazis, returning of course in the United States . 
Clooney leads a stellar cast that includes Matt Damon, John Goodman, Bill Murray, Jean Dujardin, Hugh Bonneville, Bob Balaban and Cate Blanchett. 
A co-writing the film with Clooney Grant Heslov also, his faithful collaborator since diGood Night and Good Luck.

Nicky80

Casamigos with Mr Clooney




Posts

: 8561


Join date

: 2013-05-01


Location

: Germany



oops, I missed that link, thanks

chiki

Clooney Expert




Posts

: 274


Join date

: 2013-05-23



thank you very much!!  

it's me

George Clooney fan forever!




Posts

: 18398


Join date

: 2011-01-03



Finally, there is a video of the conference. Thank you very much, Frenchies friends!!!  
http://frenchiesfans.canalblog.com/

Butterfly

Shooting hoops with George Clooney




Posts

: 356


Join date

: 2013-05-31


Location

: European Union




Nicky80

Casamigos with Mr Clooney




Posts

: 8561


Join date

: 2013-05-01


Location

: Germany



Thanks Butterfly

chiki

Clooney Expert




Posts

: 274


Join date

: 2013-05-23



Thanks Butterfly.- Is it just me, or are they all starting to look a little the worse for wear? Especially poor John Goodman. He looked half asleep! -They've been working so hard promoting the film, maybe all the running around is getting to them, or they've been sampling too much Casamigos. Whatever, they deserve a nice vacation. I hope they get some time off soon.

LizzyNY

Zip a dee Clooney!




Posts

: 7464


Join date

: 2013-08-28


Location

: NY, USA



Thanks everyone for all the pictures and links they are much appreciated.

Mazy

Achieving total Clooney-dom




Posts

: 2883


Join date

: 2012-11-03



The decor of the room looks very opulent.

Thanks for the links and translation.

LornaDoone

Moderator




Posts

: 6701


Join date

: 2011-01-06



---
Permissions in this forum:
You
cannot
reply to topics in this forum