http://www.news.com.au/world/first-look-world-trade-center-lights-up-new-york/story-fndir2ev-1226756379162
MORE than 12 years after a terrorist attack shook the world New York City can again gaze upon the World Trade Center, after the first test of the new tower's spire lit up Manhattan.  
The developers of the new World Trade Center tested the lights on the spire of the building on Friday night (local time), as hundreds of red, white and blue LED modules illuminated lower Manhattan.
The glow of the modules can be seen for up to 50 miles (80km), according to the Port Authority.
Residents of New York took to Twitter to celebrate the feat.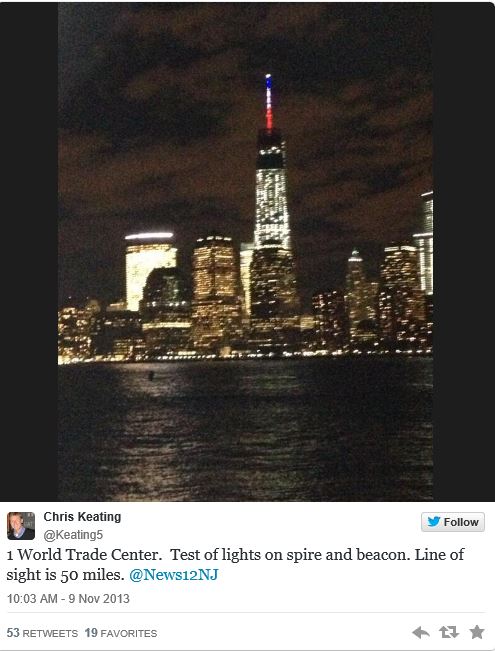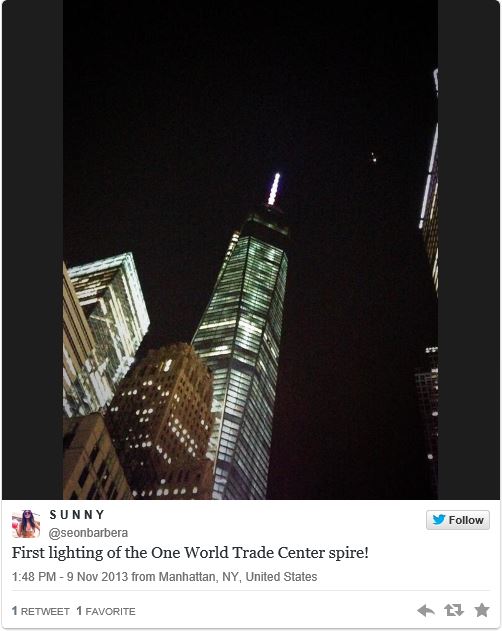 One World Trade Center remains under construction and is expected to open next year.
The new World Trade Center stands as a monument to those killed in the terrorist attacks.
A committee of world building heights experts met in Chicago to decide whether a design change that affects the 408-foot needle disqualifies it from being counted as the nation's tallest skyscraper. The committee will announce its decision next week.
The Burj Khalifa, in Dubai, is currently world's tallest building, standing 2,722 feet (830 meters).

theminis

Moderator




Posts

: 6088


Join date

: 2012-02-29


Location

: Oz



Nice. I bet there was a lot of celebrating in NYC over this !

playfuldeb

Clooneyfied!




Posts

: 4932


Join date

: 2011-01-02




Joanna

George Clooney fan forever!




Posts

: 19431


Join date

: 2011-11-17


Location

: UK



Superb structure.
Lit spire in flame red would make it look like an illuminated candle at night. Especially from up in the air.
Hope there is an observation skybar.

...

Ooh, Mr Clooney!




Posts

: 804


Join date

: 2013-06-10



so how many instead of the previous 2?

btw want to remember all victims and families

it's me

George Clooney fan forever!




Posts

: 18398


Join date

: 2011-01-03



or maybe the trade center is flipping off our enemies as if saying you may take away our towers, but you'll never take away our country


playfuldeb

Clooneyfied!




Posts

: 4932


Join date

: 2011-01-02



that for sure

it's me

George Clooney fan forever!




Posts

: 18398


Join date

: 2011-01-03



---
Permissions in this forum:
You
cannot
reply to topics in this forum