http://www.huffingtonpost.com/2013/10/30/photoshop-body-evolution_n_4170021.html
Photoshop 'Body Evolution' Video Blows Our Minds
We've been told time and time again that Photoshop is playing tricks on us, stretching, smoothing and buffing the models in magazines and ads to make them even more gorgeous (and less realistic).
But just how much can airbrushing really change? Just watch this mind-blowing video, "Body Evolution." The video, created in 2011 by GlobalDemocracy.com to demand mandatory disclaimers on all photos of airbrushed models, demonstrates just how much a computer is capable of changing a body.
While we can't be 100 percent certain the video, which surfaced again recently, is representative of what happens behind-the-scenes at every magazine today, it does make you wonder...
If models are getting the treatment seen in this video, it's no surprise lingerie model Erin Heatherton once said about her photos, "I feel like it looks like someone else. I guess it's not fair... You look better, but it's a lie."
From this:
To this: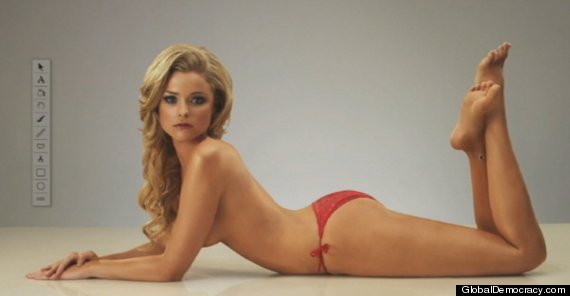 ...

Ooh, Mr Clooney!




Posts

: 804


Join date

: 2013-06-10




it's me

George Clooney fan forever!




Posts

: 18398


Join date

: 2011-01-03



I have to say she looks better in second pic.
Seriously at some point (hopefully soon) we have to go back to more normal.

Carla97

Clooney-love. And they said it wouldn't last




Posts

: 1891


Join date

: 2013-07-09



Never gonna happen.  As long as she's selling something to men - even if she's making women feel inferior - they're not going to stop making these models over.  Why?  Cause gal #1 is the gal these guys probably have at home.  And gal #2 is the gal they know they'll never gonna have but they'll delude themselves into thinking that they might.

Most effective in those ads for high powered cars, expensive trinkets, mens' cologne.  (Think about those AXE ads - they're selling the idea that if they wear that cologne - a gal like this one is gonna want to be with them).

Same thing with the expensive cars and all those things that make a man more "attractive" to a woman - supposedly.

Hollywood perpetuates the sterotypes.

Heck look at all the old ugly men with beautiful women.  What do most of those men have in common - either money, power or both.  

Salma Hyak's baby daddy. You really think she'd be with him if he wasn't a billionaire?  Doubt it.

And all the wannabees - so many are with men who are rich and powerful but not necessarily so nice looking.

George is an exception.  Not only is he drop dead gorgeous (even more so in person) he's rich, famous and powerful in Hollywood.  And if you're a gal looking for someone to get you where you're going or to take care of you - then you're going to buy into the "transformation" - hence the proliferation of plastic surgery offices in Hollywood/Bev Hills.

I don't agree with it - but it's the way it is.  

And please anyone coming here saying they follow George purely for his humanitarian or film projects is full of baloney.  Cause there are a lot of homely-looking men making just as important films as George.

Me, I'm honest about that at least.  I like looking at his face and his humanitarian stuff is icing on the cake.  Not completely sold on all his movies but for the most part - like what he puts out there.  

To this day though I've never seen Confessions of a Dangerous Mind and will never see Confessions.  I think Chuck Barris was just one bag full of hot air shit and I have no interest in sitting through anything that has anything to do with his life.

LornaDoone

Moderator




Posts

: 6708


Join date

: 2011-01-06



Hear Hear, Lorna. I thought Chuck was a black swan type, by how he seemed to approach ppl and sometimes he seemed offensive.

NotAvailable

More than a little bit enthusiastic about Clooney




Posts

: 1052


Join date

: 2011-06-04


Location

: Somewhere, everywhere



I see what you are saying Lornaand most parts I agree.
But I feel it´s common misconception, and women are seduced into thinking that they have to look certain way. And that this is what men want. Some do and some of them might even be billionaires. But it´s not majority, but more visible minority.
Of course every woman wants to and tries to look their best. But if you got a pair of new boobs in hope to move him like his never been moved before, it´s hard to hear, but there is no such easy soluzione.
If you are shaking an asshole tree, do not expect prince charming to fall down. Men with at least two living brains cells understands that many of the models we see on heavily edited advertisements actually make, for comparison, Susan Boyle look real good in person.
It´s not just people that get photoshopped. I just saw a year calendar with nature pictures the other day. Those pics were from norther parts of northern hemisphere but colors were like from South Africa. Blueberries with leaves like rainbows and forest like amazon. Even fairy tail books have more realistic colorings. Really crazy looking.

Carla97

Clooney-love. And they said it wouldn't last




Posts

: 1891


Join date

: 2013-07-09



aspect is the first thing you notice
obviously


but then?

an empty doll (male or female) is not the fulfilling one we all search
sooner or later

the soul you see thru the eyes
despite not so good aspect
can be powerful


as said
G is another world

it's me

George Clooney fan forever!




Posts

: 18398


Join date

: 2011-01-03



I dont use photoshop in my photography, and I tell models that up front. I work my camera so I bring out the natural beauty in women. There are physical tricks to enhance and alter. For example, if you have a double chin, lift your head up from your shoulders, jut your head out to the front, and then slightly drop your chin down a tiney bit. Removes any trace of double chin in an image. Still looks like the person.

playfuldeb

Clooneyfied!




Posts

: 4932


Join date

: 2011-01-02



Thats good playful, someone still using actual skills in photgraphy.
"G is another world"
Hmm maybe. We may have all come on different ships, but we are in the same boat when it comes to world news, weather, economics, photoshopped pics etc. earthy realities. It´s not like load the boat, members only! I don´t know.
Looks are important. But sometimes it just happens that if you look long enough the person in the picture starts turning "ugly" because of his personality or vice versa. Maybe just me, strange feeling when it happens...like warning or warming

Carla97

Clooney-love. And they said it wouldn't last




Posts

: 1891


Join date

: 2013-07-09



Similar topics
---
Permissions in this forum:
You
cannot
reply to topics in this forum