James Packer Takes a New Gamble on Big Movies Venture
JOHN LEHMANN EDITOR AT LARGE
THE DAILY TELEGRAPH
OCTOBER 11, 2013 9:00PM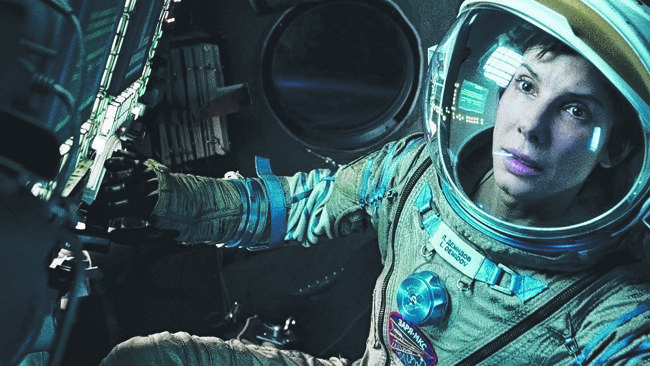 The blockbuster film Gravity is being hailed as the film of the year. Picture: Supplied Source:Supplied
JAMES Packer is planning Hollywood movie projects with screen legends Clint Eastwood and Warren Beatty as part of a $450 million film deal which will deliver spin-off benefits for his new Sydney casino resort.
The filmmaking venutre, called RatPac, will see Mr Packer build business relationships with Hollywood's A-list, enabling his Crown Resorts company to stage exclusive celebrity events for Sydndeysiders at its $1.5 billion high-rollers casino planned for Barangaroo.
Taking a lead from Las Vegas where casino icons such as Bellagio have enhanced their sex appeal by "starring" in blockbusters such as George Clooney's Oceans 11, Mr Packer will also encourage the use of Sydney locations in some films to showcase the city to potential international tourists.
"I wouldn't want to overemphasise the idea that we've strategised this or have it all road-mapped out, but I do believe at a higher level there is
a synergy between the movie entertainment business and the casino business,'' Mr Packer told The Daily Telegraph.
"The movies and TV business sell emotion and as (US casino veteran) Steve Wynn once told me, the casino business is about adrenalin, so there is a chemistry there.
"And the only business actors think is cooler than the movie business is the casino business - we've had Warren Beatty and Bugsy, Robert De Niro and Casino and George Clooney and Brad Pitt in Oceans 11.''
Ocean's Eleven cast George Clooney, Brad Pitt, Matt Damon, Elliott Gould and Don Cheadle. Picture: Supplied Source: Supplied
Mr Packer's Hollywood move has got off to a record-breaking start, with the first film financed by RatPac - the space thriller Gravity - generating the strongest ever October opening in the US, taking box office receipts of more than $110 million in its first five days.
Mr Packer and his RatPac partners, filmmaker Brett Ratner and private investment specialist Steven Mnuchin, of Dune Capital Management, will receive a 25 per cent share of the profits.
"We all know it (producing movies) is a high-risk business and when your first movie starts like this all you can say is 'thank you','' Mr Packer said.
Under the four-year movie deal, RatPac will finance a quarter of the cost of 75 movies for Warner Bros, which owns franchises such as Batman and Superman and is behind upcoming movies such as Grudge Match, starring Robert De Niro.
RatPac is believed to have covered about a third of the $450 million in equity and debt involved in the deal.
"If the whole thing is successful in five years' time, people will probably say it seemed an obvious thing to do, and if it fails, they'll say it was a moronic vanity project,'' Mr Packer said.
Actors George Clooney, Brad Pitt and Matt Damon from Ocean's Thirteen. Picture: Supplied Source:News Limited
Outside the Warner deal, RatPac would also finance its own independent movies.
These movies include Russell Crowe's Gallipoli epic, The Water Diviner, and RatPac is believed to be backing Beatty's long-awaited biopic on Hollywood pioneer Howard Hughes.
RatPac has also put in another 25 per cent of the funding for Clint Eastwood's Jersey Boys - the rags to riches story of singer Frankie Valli and the Four Seasons - on top of its standard 25 per cent contribution through the Warner deal.
Projects are also being scoped out with Israeli Hollywood power player, Arnon Milchan, the producer of more than 120 motion pictures, including Pretty Woman, Natural Born Killers and L.A. Confidential.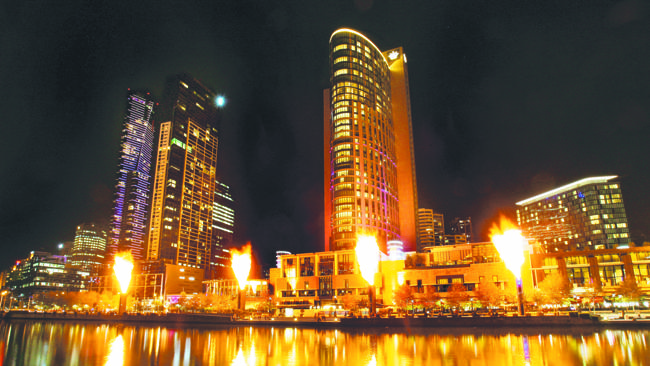 Mr Packer's Crown Casino in Melbourne. Source: News Limited
Mr Packer, whose Crown Ltd has increased in value by $3 billion in the last four months, said he "could not be thankful enough" to Mr Milchan and Australia's Village Roadshow chief Graham Burke, who helped seal the deal with Warner by vouching for his business acumen.
Mr Packer's casino guru Todd Nisbet, who is overseeing teh Barangaroo project, imagines actors starring in RatPac films.
"We would be talking about attracting gtlobal superstars to Australia and staging events that would never be on the radar here," Mr Nisbet said.
Crown will also sign up movie stars, musicians and sports champions as "ambassadors" to promote their integrated resorts in Australia and Asia, through the Melco Crown partnership with Macau casino scion Lawrence Ho. The pair launched their Philippines casino integrated resort project - the $1.3 billion City Of Dreams Manila, this week.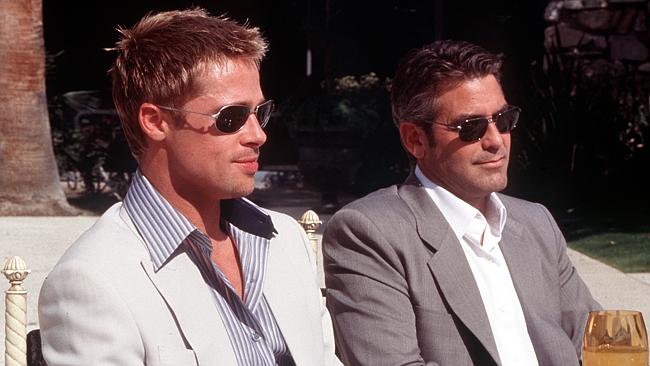 Actors Brad Pitt and George Clooney in the 2002 film Ocean's Eleven. Picture: Supplied Source:News Limited
Mr Ratner and Mr Packer met through his now separated wife, Erica Baxter, about seven years ago. Mr Ratner, the brains behind the Rush Hour films and the Marvel Comics adaptation X-Men: The Last Stand, became an investor in Mr Packer's beauty products business, Jurlique.
"Our relationship has been tested because Jurlique was a roller-coaster experience - it was not a one-way good news ticket - but in the end it turned out to be a good investment,'' he said.
After Jurlique was sold, Mr Packer and Mr Ratner celebrated in Los Angeles. "We started talking about life and we realised if we put our names together we could call ourselves RatPac so I thought that's got to be a sign,'' Mr Packer recalled.
"We ended up in a room together and (Frankie Valli's song) Oh What A Night was playing and we thought wouldn't it be incredible to be involved in Jersey Boys and that's where it all came from.
"I guess you could say that now Brett and I are having a bromance. It may work, it may well fail, but you know what, we're giving it a shot.''
John Lehmann travelled to the Philippines courtesy of Crown Ltd
http://www.perthnow.com.au/news/james-packer-takes-a-new-gamble-on-big-movies-venture/story-fnii5s3z-1226738627985

Mazy

Achieving total Clooney-dom




Posts

: 2883


Join date

: 2012-11-03



I've just moved this thread in case you're wondering. The 'news' section is for news stories directly about George.

Katiedot

Admin




Posts

: 13223


Join date

: 2010-12-05



Similar topics
---
Permissions in this forum:
You
cannot
reply to topics in this forum