Found this in the Le Martin where the (biking trip)article was yesterday. Didn't think I saw it before, it's a little different take on Nespresso. There are 3 videos that I could not get, didn't find a place to get code. Also a few more pictures.
Clooney Monitors A Dictator With His Pills Nespresso
SUDAN
Very involved in the case of Darfur, the American actor George Clooney uses the money he earns by turning Nespresso pubs to fund a satellite that monitors Omar al-Bashir, the Sudanese dictator.

By Matthew Hoffstetter . Updated 02/08/2013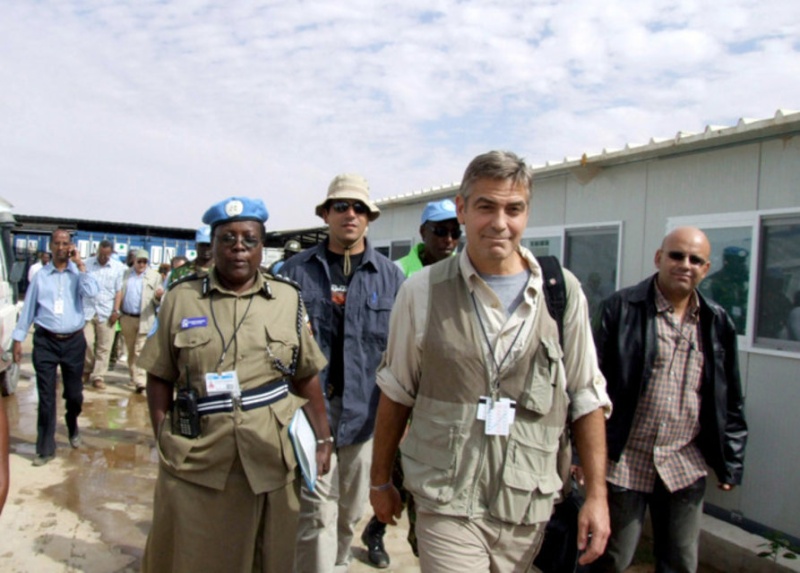 George Clooney has been working since many years to defend the Sudanese people against the abuses of the regime.
Image: Keystone
Since his breakthrough in the series ER in the middle of the 1990s, George Clooney is constantly in the viewfinder of the camera and the objectives of cameras. But it is not only spying but also spy: the 52 year old actor has revealed that he funded a project to monitor continuously Sudan satellite.
And this money is essentially that of the stamps it key to turning pubs Nespresso .This is what he has entrusted in an interview with British newspaper The Guardian .
"Much of the money earned in the Nespresso commercials money is used to keep a satellite over northern and southern borders of Sudan to monitor Omar al-Bashir," says the actor.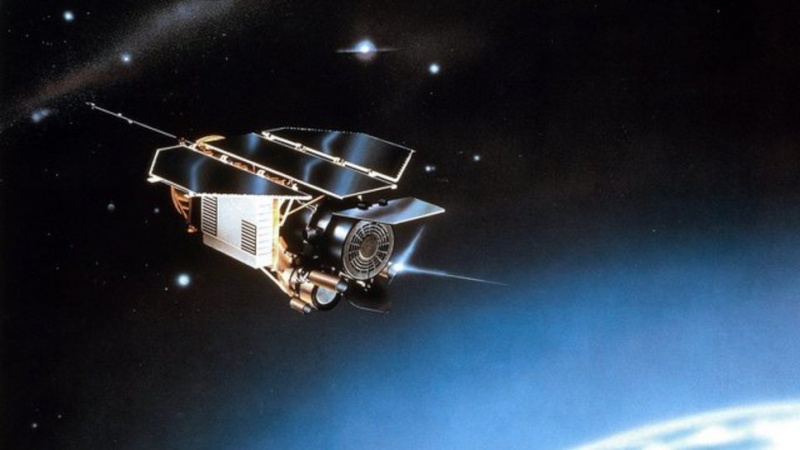 Militias, bombing, troops mass
Launched in late 2010, the program The Satellite Sentinel Project was originally intended to prevent and report potential terrorist acts, genocide, war crimes, including the Khartoum regime could be guilty before the referendum on self-determination for January 9 2011 in South Sudan. Maintained since the independence of these regions, it continues to monitor the activities of militias and armed North.
"The government in Khartoum has armed militias in contested bordering regions, government aircraft bombed border areas, and both sides have massed military units and equipment all along the border. We want potential perpetrators of genocide and other war crimes know that we are watching, the world is watching, "argues George Clooney.
Clooney, Bashir: in the eye of the cameras
The Sudanese dictator reacted to the introduction of this system of satellite monitoring: "He made a statement about it, saying that I was spying on me and wondering what my reaction would be if a camera followed me wherever I ' going and I replied: "Well, welcome to my world, Mr. War Criminal", "George Clooney is amused. And adding mischievously that the goal was "the war criminal is subject to the same attention" than him.
Within the scope of an international arrest warrant issued in 2009 and 2010 for "crimes of war and genocide" in Darfur province, Omar al-Bashir leaves almost more his country.
This is also in Darfur that the interest of George Clooney in Sudan has grown. Sensitized by his father Nick (himself involved long in humanitarian activities in the region), the actor has produced a documentary in 2007 entitled "Darfur: sand and tears" which detailed the causes of genocide.
The actor explains in this video the risks and commitment to local civilians.
Seals to 6 million francs
The face of Nespresso has even voluntarily stop at the Sudanese Embassy in Washington during a protest against the abuses of human rights, as this video shows.
Now the political and media activities, the public knows that the actor adds funding. George Clooney estimated to affect more than 6 million francs shooting spot advertising character. Still long enough to finance the supervision of Omar al-Bashir.
Nespresso coffee made in Sudan
And the actor does not stop there: George Clooney recently requested and obtained from the subsidiary of Nestle ( NESN 62.05 0.08% ) that develops Nespresso coffee culture in the country and offers wines from this country in the pods. The first capsules "Nespresso" coffee with the Sudanese will be marketed in 2015. Nestlé and Clooney then combine to help the economic development of the country.
Economic action that would directly benefit the people. Also on the economic front, George Clooney calls for the freezing of bank accounts of key management to prevent the purchase of arms, as he explains in this video .
Boosted by the oil industry for a decade, the Sudanese economy has now reached a GDP of $ 90 billion. But the only turnover of Nespresso (over four billion francs in 2012) would make the Nestle subsidiary the first company in the country if it had its headquarters. Hence the importance for local farmers to take advantage of this opportunity offered by the Swiss group.

Clooney surveille un dictateur avec ses cachets Nespresso
SOUDAN
—
Très impliqué dans la cause du Darfour, l'acteur américain George Clooney se sert de l'argent qu'il gagne en tournant les pubs Nespresso pour financer un satellite qui surveille Omar El-Bechir, le dictateur soudanais.
Par Matthieu Hoffstetter. Mis à jour le 02.08.2013   
Depuis ses premiers succès dans la série Urgences au milieu des années 1990, George Clooney est sans cesse dans le viseur des caméras et dans les objectifs des appareils photos. Mais il n'est pas seulement espionné, mais aussi espion: le comédien de 52 ans vient de révéler qu'il finançait un projet de surveillance en continu du Soudan par satellite.
Et cet argent, c'est essentiellement celui des cachets qu'il touche pour Le tournage des pubs Nespresso. C'est ce qu'il vient de confier dans un entretien au quotidien britanniqueThe Guardian.
«Une grande partie de l'argent gagné dans les publicités Nespresso sert à garder un satellite au-dessus des frontières nord et sud du Soudan pour surveiller Omar El-Béchir», explique le comédien.
Milices, bombardements, troupes en masse
Lancé fin 2010, le programme The Satellite Sentinel Project visait à l'origine à prévenir et dénoncer les éventuels actes terroristes, génocides, crimes de guerre, dont le régime de Khartoum aurait pu se rendre coupable avant le référendum sur l'autodétermination du 9 janvier 2011 au Soudan du Sud. Maintenu depuis l'accession à l'indépendance de ces régions, il continue de surveiller les agissements des armées et milices du Nord.
«Le gouvernement de Khartoum a armé des milices dans les régions limitrophes attaquées, l'aviation gouvernementale a bombardé les zones frontalières, et les deux parties ont massé des unités militaires et de l'équipement tout le long de la frontière. Nous voulons que les auteurs potentiels de génocide et autres crimes de guerre sachent que nous les surveillons, que le monde les regarde», argumente George Clooney.
Clooney, El-Béchir: dans l'œil des caméras
Le dictateur soudanais avait réagi à la mise en place de ce système de surveillance satellite: «Il a fait un communiqué à ce sujet, en déclarant que je l'espionnais et me demandant quelle serait ma réaction si une caméra me suivait partout où j'allais et je lui ai répondu: "Et bien, bienvenue dans mon monde, Monsieur le criminel de guerre"», s'est amusé George Clooney. Et d'ajouter malicieusement que le but était que «le criminel de guerre fasse l'objet de la même attention» que lui.
Sous le coup d'un mandat d'arrêt international émis en 2009 et 2010 pour crimes «de guerre et génocides» dans la province du Darfour, Omar-el-Béchir ne quitte quasiment plus son pays.
C'est d'ailleurs au Darfour que l'intérêt de George Clooney pour le Soudan s'est développé. Sensibilisé par son père Nick (lui-même impliqué de longue date dans des actions humanitaires dans la région), le comédien a notamment produit en 2007 un documentaire intitulé «Darfour : du sable et des larmes» qui détaillait les causes du génocide.
L'acteur explique dans cette vidéo les risques encourus par les populations civiles locales et son engagement.
Des cachets à 6 millions de francs
L'égérie de Nespresso s'est même volontairement fait arrêter devant l'ambassade du Soudan à Washington lors d'une manifestation de protestation contre les atteintes aux droits de l'Homme, comme cette vidéo le montre.
Désormais, aux actions politiques et médiatiques, le grand public sait que le comédien ajoute le financement. George Clooney toucherait un cachet estimé à plus de 6 millions de francs par tournage de spot publicitaire. De quoi financer encore longtemps la surveillance d'Omar El-Béchir.
Du café Nespresso made in Soudan
Et le comédien ne s'arrête pas là: George Clooney a récemment demandé et obtenu de la filiale de Nestlé (NESN 62.05 0.08%) que Nespresso développe la culture du café dans le pays et propose des crus issus de ce pays dans les dosettes. Les premières capsules «Nespresso» avec du café soudanais seront commercialisées à l'horizon 2015. Nestlé et Clooney s'associent donc pour aider au développement économique du pays.
Une action économique qui serait au bénéfice direct des populations. Toujours sur le plan économique, George Clooney prône le gel des comptes bancaires des principaux dirigeants afin d'empêcher les achats d'armes, comme il l'explique danscette vidéo.
Dopée par l'industrie pétrolière depuis une décennie, l'économie soudanaise atteint désormais un PIB de 90 milliards de dollars. Mais le seul chiffre d'affaires de Nespresso (plus de quatre milliards de francs en 2012) ferait de la filiale de Nestlé la première entreprise du pays si elle y avait son siège social. D'où l'importance pour les agriculteurs locaux de profiter de cette opportunité offerte par le groupe suisse.
http://www.lematin.ch/economie/entreprises/clooney-surveille-dictateur-cachets-nespresso/story/11096782?track

Mazy

Achieving total Clooney-dom




Posts

: 2883


Join date

: 2012-11-03



Thanks Mazy for the artical. Watched the videos too. Wonder what he will do next. Hope he is not going there that soon again.

Nicky80

Casamigos with Mr Clooney




Posts

: 8561


Join date

: 2013-05-01


Location

: Germany



Not sure if I read this correctly, Mazy, but Le Matin seem to be getting a bit confused. Nespresso are going to get involved with SOUTH Sudan, aren't they? Don't thnk they've made that clear here.....

party animal - not!

Clooney valentine




Posts

: 11583


Join date

: 2012-02-16



@party animal - not!

wrote:Not sure if I read this correctly, Mazy, but Le Matin seem to be getting a bit confused. Nespresso are going to get involved with SOUTH Sudan, aren't they? Don't think they've made that clear here.....
This article is dated August 02, 2013. If I am not mistaken (which is always possible CRS), this would be just prior to the announcement from George and Nepresso. though the translations get me confused sometimes.

Mazy

Achieving total Clooney-dom




Posts

: 2883


Join date

: 2012-11-03



---
Permissions in this forum:
You
cannot
reply to topics in this forum