George Clooney is the attraction in the Harz
last updated: 17.05.2013 - 21:37
. Halberstadt (RPO)
There are many reasons to travel - to the Harz mountains and yet one more. Because if you have luck, can catch a glimpse of George Clooney. The Hollywood Star turns in the town of Halberstadt.
Halberstadt, the "gate to the Harz mountains" is Hollywood fever. In the normally tranquil Cathedral square many onlookers have gathered on Friday, to catch a glimpse of movie stars. Some had good luck: George Clooney (52) was sitting in the passenger seat of a car and was good to see lowered disc.
Good humoured and with sunglasses, he waved, waved back guests of a café. The Halberstadt Cathedral is filming location for Clooney's new film "the monuments men". He is Director and lead actor.
Also Matt Damon and Cate Blanchett are there
"Nothing is as it was - Halberstadt in the Clooney-fever", according to a communication from the city by Friday evening. And further: "For the residents of the Cathedral square it will be today interesting evening, to look out the window and to experience Hollywood live, to turn than the TV." Matt Damon, Bill Murray and Cate Blanchett are among the cast of Clooney's new work.
Officially announced was not, when and where is rotated.
Large areas are closed off with an opaque fence.
Outside it are historic military vehicles and limousines from the 1940s. The street lights in the area of the Cathedral Square were exchanged, dismantled street signs. Extras dressed in Wehrmacht uniforms were brought by bus to the city.
Renate Irene Michaluki-Rilke, Assistant in the Halberstadt Cathedral, had Clooney recently some good advice given. He should wear warm socks; Finally, in the DOM, it is always fußkalt.
http://www.rp-online.de/kultur/film/george-clooney-ist-die-attraktion-im-harz-1.3407381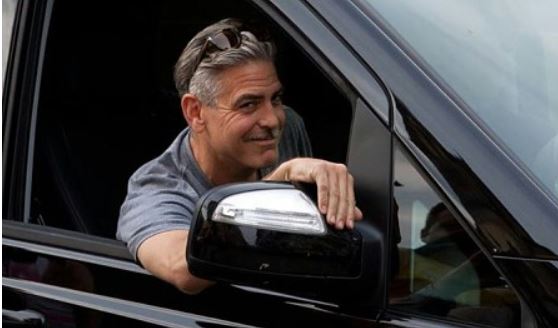 Last edited by theminis on Sat 18 May 2013, 00:19; edited 1 time in total (Reason for editing : added pic.)

silly girl

Hi ho, hi ho, it's off to Clooney I go!




Posts

: 3299


Join date

: 2011-02-28



Nice new pic. Thanks

it's me

George Clooney fan forever!




Posts

: 18398


Join date

: 2011-01-03



Aw, how nice, he waved to the fans. Can you imagine any other Hollywood actor being as accessible as this? Especially when he must be super busy and stressed directing this film.

Katiedot

Admin




Posts

: 13223


Join date

: 2010-12-05



More (thanks Henway for this bonanza):
http://www.volksstimme.de/nachrichten/lokal/wernigerode/1077121_Clooney-faehrt-am-Set-in-Halberstadt-vor.html

Hollywood takes possession of Cathedral Square in Halberstadt. On Saturday night, George Clooney filmed in the city. In the late afternoon the star with a black sedan rolled onto Cathedral Square and greeted the fans.

Halberstadt l Again and again a member of the ADAC turns the key in the ignition of an old VW bucket car. It sputters a few times, but the engine of the 70-year-old war vehicle simply will not start. A colleague sitting in an equally old original car of the Wehrmacht, which is also used for the filming of the Hollywood movie "The Monuments Men" in Halberstadt, has the same problem.

A few minutes later, and about 20 attempts it succeeds then but stops. Reversing the men who tow cars from the ADAC, with which they are pulled up on Friday at 11 clock on the west side of the Piazza del Duomo. Under the gaze of some funny-looking passers-by, photographers and pursued by a camera crew to move the classic car across the gravel. Before an opaque fence behind which the Hollywood crew has been hiding her props, park transportation and construction workers the cars.

They will receive in the middle of the cathedral square of a dozen onlookers who dig their smartphones excited out of my pocket to capture the scene with the camera phone. Nor do they have the opportunity. But in the afternoon the crew members are breaking even more, related with planning fences.

Although the Cathedral Square from 17.00 should be hermetically sealed, some onlookers are lucky. At 17.35 George Clooney rolls up in a black limousine on the cathedral square. Friendly greets the fans of the Star.

In the run, there had been at the Hochschule Harz many inquiries as to whether the school buildings are open for spectators. The rooms however Babelsberg had rented.

Urgency, when the 300-strong crew of Hollywood George Clooney during the night off the large headlights and the scenes for the movie in the "box" are. Craftsmen and technicians have about 24 hours of time for the big clean up in the cathedral.

Tomorrow pulls back the everyday into the largest church of Halberstadt. Item 10 clock everything must be set back in place for the traditional Pentecostal worship. Film equipment and props are to be loaded, the 700 chairs that were removed for the filming of the cathedral must be acknowledged. Even the remarkable altar, a well-crafted van Eyck copy of the altar in the Cathedral of Ghent in Belgium, where plays "The Monuments Men" must give way to the view of the imposing rood screen in Halberstadt Cathedral.

Hollywood nimmt den Domplatz in Halberstadt in Besitz. In der Nacht zum Sonnabend hat ­George Clooney in der Stadt gedreht. Am späten Nachmittag rollte der Star mit einer schwarzen Limousine auf den Dom­platz und grüßte die Fans.

Anzeige

Halberstadt l Wieder und wieder dreht ein Mitarbeiter des ADAC den Schlüssel im Zündschloss eines alten VW-Kübelwagens um. Es knattert ein paar Mal, aber der Motor des rund 70 Jahre alten Kriegsfahrzeugs springt einfach nicht an. Ein Kollege sitzt währenddessen in einem ebenso alten Original-Auto der Wehrmacht, das ebenfalls für den Dreh des Hollywood-Films "The Monuments Men" in ­Halberstadt gebraucht wird, und hat dasselbe Problem.

Einige Minuten und etwa 20 Versuche später gelingt es dann doch noch. Rückwärts fahren die Männer die Autos vom Abschleppwagen des ADAC, mit dem sie am Freitag gegen 11 Uhr an der Westseite des ­Domplatzes vorgefahren sind. Unter den Blicken einiger schaulustiger Passanten, Fotografen und verfolgt von einem Kamera-Team bewegen sie die Oldtimer quer über den Schotter. Vor einem blickdichten Zaun, hinter dem die Hollywood-Crew bereits ihre Requisite versteckt hat, parken die Transport- und Aufbauhelfer die Autos.

Empfangen werden sie in der Mitte des Domplatzes von einem Dutzend Zaungästen, die aufgeregt ihre Smartphones aus der Tasche kramen, um die Szene mit der Handykamera festzuhalten. Noch haben sie Gelegenheit dazu. Doch im Laufe des Nachmittags stellen die Crew-Mitglieder immer weitere, mit Planen bezogene Zäune auf.

Obwohl der Domplatz ab 17 Uhr hermetisch abgeriegelt sein soll, haben einige Zaungäste Glück. Um 17.35 Uhr rollt George Clonney in einer schwarzen Limousine auf den Domplatz. Freundlich grüßt der Star die Fans.

Bereits im Vorfeld hatte es bei der Hochschule Harz viele Anfragen gegeben, ob die Schulgebäude für Zuschauer geöffnet werden. Die Räume hatte jedoch Babelsberg komplett angemietet.

Eile ist geboten, wenn die etwa 300-köpfige Hollywood-Crew um George Clooney in den Nachtstunden die großen Scheinwerfer ausschaltet und die Szenen für den Film im "Kasten" sind. Handwerker und Techniker haben dann etwa 24 Stunden Zeit für das große Aufräumen im Dom.

Bereits morgen zieht wieder der Alltag in das größte Halberstädter Gotteshaus ein. Punkt 10 Uhr muss für den ­traditionellen Pfingstgottesdienst alles an Ort und Stelle stehen. Filmausrüstung und Requisite sind zu verladen, die etwa 700 Stühle, die für die Dreharbeiten aus dem Dom entfernt wurden, müssen eingeräumt sein. Auch der sehenswerte Altar, eine gut gemachte van-Eyck-Kopie des Altars im Genter Dom in Belgien, wo "The Monuments Men" spielt, muss für den Blick auf den imposanten Lettner im Halberstädter Dom weichen.
http://www.bild.de/news/leserreporter/pink/george-clooney-am-set-30404878.bild.html

Was Leser-Reporter mit VIPs erleben

Vergrößern

LESER-REPORTER

Was Leser-Reporter mit VIPs erleben

Hier wird gleich die nächste Szene für "The Monuments Men" gedreht. Bis es losgeht, legt ein sichtlich gut gelaunter George Clooney selbst Hand an der Frontscheibe an

vorheriges Elementnächstes Element

Foto: privat1 / 204

17 May 2013

What readers do with VIPs . . .

"Clean windows ...?"

With this window cleaner probably even those urbanites would willingly give a euro reward that otherwise annoyed at traffic lights and wind up the windows because they want to polish the windscreen without asking strangers types. Osterwieck in Harz that is put superstar George Clooney (51) itself to hand, as it was to clean the windshield of a truck for the next take.

Half Hollywood is doing currently through the Harz! This turns Clooney as director and star, the historical action drama "The Monuments Men" . The contents: art experts try to save art treasures looted by the Nazis.

17.05.2013 - 18:02 Uhr

"Fenster sauber machen…?"

Bei diesem Scheibenputzer würden wohl auch jene Großstädter bereitwillig einen Euro als Belohnung geben, die sonst an Ampeln genervt die Fenster hochkurbeln, weil ihnen wildfremde Typen ungefragt die Frontscheibe polieren wollen. In Osterwieck im Harz legte nämlich Superstar George Clooney (51) selbst Hand an, als es galt, für den nächsten Take die Frontscheibe eines Lkw zu säubern.

Halb Hollywood turnt derzeit durch den Harz! Hier dreht Clooney als Regisseur und Hauptdarsteller das historischen Actiondrama "The Monuments Men". Der Inhalt: Kunstexperten versuchen, von den Nazis geraubte Kunstschätze zu retten.
Last edited by Katiedot on Sat 18 May 2013, 07:10; edited 1 time in total

Katiedot

Admin




Posts

: 13223


Join date

: 2010-12-05



video from Halberstadt [url=]

lelacorb

Hi ho, hi ho, it's off to Clooney I go!




Posts

: 3351


Join date

: 2011-03-15


Location

: Italy



Thanks for the updates and photos.

Why are some faces blurred out in the last one.

Maggy

Totally loving George Clooney




Posts

: 3821


Join date

: 2012-01-02



It seems that everyone's is blurred out except for George's and the man walking beside him.

NotAvailable

More than a little bit enthusiastic about Clooney




Posts

: 1052


Join date

: 2011-06-04


Location

: Somewhere, everywhere



Yes, I'd guess it's to protect their privacy although I can't for the life of me figure out how the editor chose who to blur and who not to.

Katiedot

Admin




Posts

: 13223


Join date

: 2010-12-05



Perhaps the only ppl not blurred whose faces are seen, are the only ones NOT objecting to the pic?

NotAvailable

More than a little bit enthusiastic about Clooney




Posts

: 1052


Join date

: 2011-06-04


Location

: Somewhere, everywhere



Joanie, they didn't ask anyone's permission to use the pic so no one could or couldn't have objected to it.

Katiedot

Admin




Posts

: 13223


Join date

: 2010-12-05



I am surprised that they blurred anyone at all then. Just George and the man walking beside him and a few others who were not in direct frontal view, tho some of those blurred seemed to be from the side. Thats why i said that. But maybe you're right and tho they didn't ask for permission, blurred some of them. 7 blurred, about 8 not. Doesn't make sense but its done anyway.

NotAvailable

More than a little bit enthusiastic about Clooney




Posts

: 1052


Join date

: 2011-06-04


Location

: Somewhere, everywhere



---
Permissions in this forum:
You
cannot
reply to topics in this forum