Free Webmaster Tools
Submit Express
Page 7 of 7 •

1, 2, 3, 4, 5, 6, 7

cindigirl wrote:Wasn't that the fuzzy picture at the bar? Still don't believe that was her.
You did the 100 or so pictures of her leaving a party with George the next night, right? Loads of them were posted here. You also saw the pictures of her on the red carpet the first night. You read so many people saying they saw them together, so when you know she was there why would you think she wasn't?

Katiedot

Admin




Posts

: 13224


Join date

: 2010-12-05



I mean I don't believe the bar pictures. I remember the pictures of her leaving the party with George. She was behind him and he didn't even acknowledge she was there. Those are the pictures I remember.

Are there any with them standing side-by-side with him smiling (or even looking) at her? If so, sadly I missed them.

cindigirl

Happy Clooney-looney!




Posts

: 5313


Join date

: 2010-12-06


Location

: NJ, USA



In the video of them at the bar he puts his hand on her waist briefly.
I still don't get why you'd think she wasn't at the bar with him when so many people said she was and there were pics of them all over the place at other parties. Why would he not take her to one party when he took her to other parties and more to the point why would so many people then lie and say they saw her?
What you're saying is that she walked the red carpet, then vanished into thin air while other people lied and said they saw her at the bar that evening then she then reappeared later that day to be photographed with George at another party and again the following day and went with George to other parties. Do you see why I'm confused?
Here's her that first night shaking hands with Bono: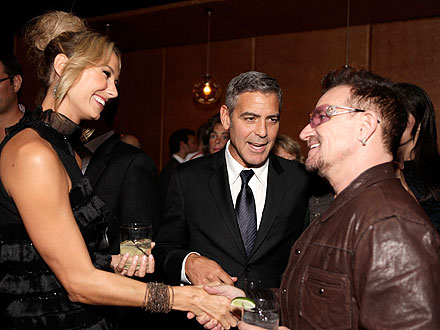 Katiedot

Admin




Posts

: 13224


Join date

: 2010-12-05



It seems her but I can not understand how George is with her? I have the impression that you are ashamed of her? Red Carpet separated (she slips off alone in Toronto and the people who were asking: who is?) Together but separated at the party, he always in front or behind her. He who in a famous Italian restaurant (I can not say the name because it is a confidence that made me a waiter) was called "BOSTIK" (super glue) or octopus clinging to eat because Canalis and her hands were always on the back or you or on the thighs! Really strange!


lelacorb

Hi ho, hi ho, it's off to Clooney I go!




Posts

: 3333


Join date

: 2011-03-15


Location

: Italy



I'm just an incurable romantic expecting G to show some sign of attachment to Stacy. Guess I'll have to wait for that. I see George smiling fondly at Bono.

cindigirl

Happy Clooney-looney!




Posts

: 5313


Join date

: 2010-12-06


Location

: NJ, USA




it's me

George Clooney fan forever!




Posts

: 18096


Join date

: 2011-01-03



Page 7 of 7 •

1, 2, 3, 4, 5, 6, 7

---
Permissions in this forum:
You
cannot
reply to topics in this forum