Free Webmaster Tools
Submit Express
Not sure where this is but lovely pic
https://twitter.com/meaganmariee/status/606240182292094976/photo/1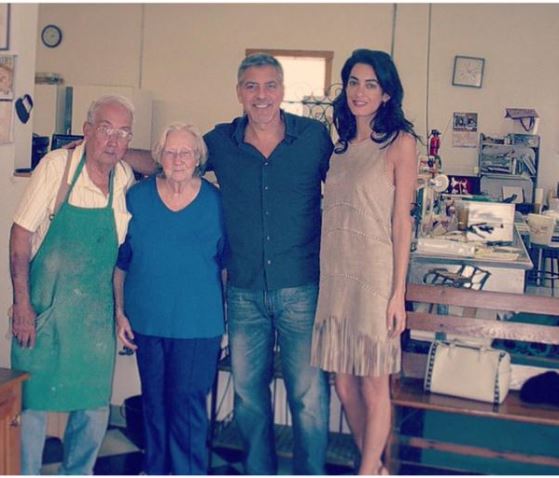 Last edited by Nicky80 on Thu 04 Jun 2015, 19:18; edited 2 times in total (Reason for editing : added pic)

party animal - not!

Casamigos with Mr Clooney




Posts

: 8958


Join date

: 2012-02-16



thanks to frenchies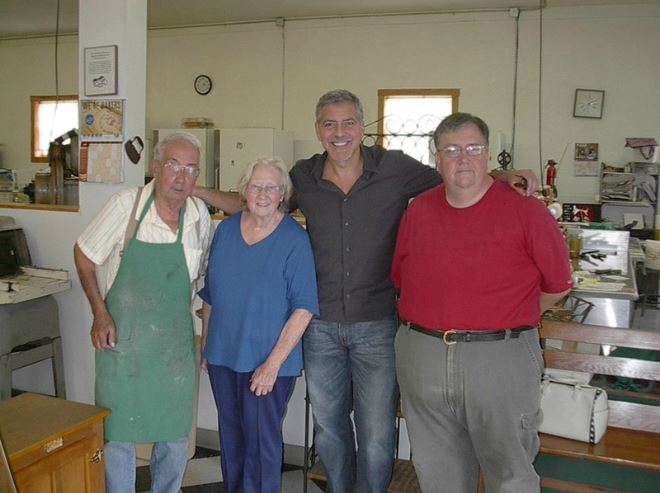 https://www.facebook.com/pages/Magees-Bakery/323480747673265
Last edited by Nicky80 on Thu 04 Jun 2015, 19:22; edited 1 time in total

Nicky80

Casamigos with Mr Clooney




Posts

: 8561


Join date

: 2013-05-01


Location

: Germany




Nicky80

Casamigos with Mr Clooney




Posts

: 8561


Join date

: 2013-05-01


Location

: Germany



Her breasts appear larger, is she not pregnant? smart and ambitious way she is, I'm sure she will soon have his child.

catwoman

Clooney Addict




Posts

: 181


Join date

: 2014-01-31


Location

: Brasil



Thanks pan & Nicky for posting the lovely natural pictures.
I like the way that George still remembers 
his roots and the local folk there. 


Joanna

George Clooney fan forever!




Posts

: 19233


Join date

: 2011-11-17


Location

: UK



If George and Amal decide to have children good for them if they don't good for them their life their choice.

annemarie

Happy Clooney-looney!




Posts

: 5364


Join date

: 2011-09-11



@catwoman, that question has been raised for a few weeks now. Maybe that was his birthday gift? Just saying...

SideEyeSally

Getting serious about George




Posts

: 56


Join date

: 2014-12-31



A visit to George Clooney's favorite bakery in Mason County where transparent pies are the Focus
MAYSVILLE — Actor George Clooney loves transparent pies from Magee's Bakery in rural Mason County.
Kentucky native Clooney has talked about the pies through much of his career: He brought actress Alicia Silverstone to the bakery when it was still downtown and the two were starring in
Batman & Robin
, one of the less-remembered movies in the Batman franchise.
On the red carpet for
Leatherheads
, which premiered in 2008, Clooney waxed eloquent about transparent pie.
So when the actor popped into the bakery a couple of weeks ago with new wife Amal, the two did what is expected in 2015: They snapped a few selfies with the proprietors of the bakery, Judy and Ron Dickson and their son Russell. The shots went on the Magee's Facebook page.
The Clooneys bought a dozen of the pies and paid for another dozen for the next lucky customer.
Transparent pies have a smooth custard mouth feel and a lightly sweet eggy taste. The crust is light, flaky, croissant-like. The sensation of eating a transparent pie is like taking a quick nap in a warm, buttery cocoon.
After the Clooneys left, the Dicksons went back to work at their bakery, which is open Tuesday through Saturday. The transparent pies are baked fresh daily with what baker Judy Dickson calls "everything that's good in the world."
When his movie
Leatherheads
premiered in Maysville in 2008, Clooney was asked on the red carpet what he liked most about returning home.
He said the correct answer should have been the chance to visit with friends and family, but then revealed that it was really the chance for transparent pies.
In a video now appearing on YouTube, Clooney says: "You will eat one of these little transparent pies — by the way, you could just take it and stuff it into your heart — it'll kill you, but it's the greatest thing you'll ever taste in your life."
After the photos appeared on Facebook, the Dicksons shortly found themselves a worldwide viral sensation. Jezebel.com ran an awkward attempt to be funny about Clooney in fly-over country ("We ain't heard word about the family reunion").
A befuddled online rant on Popdust.com said that Amal Clooney's fringed dress (Alberta Ferretti, about $3,000) was an attempt to fit in with the area's alleged hillbilly culture: "Even though she looks ridiculous among the proudly style-free locals dressed casually by Sears and J.C. Penney, it's kind of adorable of her to make the effort, isn't it?"
The bakery draws a steady stream of daily visitors, group dinners (you make your own tart crust and biscuits) and bus tours, but the place is nearly impossible to happen upon by accident. Even by rural Kentucky standards, the bakery is tucked up in there, in the Orangeburg neighborhood where Ron and Judy Dickson grew up.
The two played together as children. Ron got Judy's bicycle taken away when he encouraged her to ride farther away from home than her parents allowed.
More than a decade later, she married him anyway.
The bakery is up a little hill near the Dicksons' home; across the road is a deep gully. Visitors can become a little dizzy with the country-roadiness of it all.
The Dicksons bought Magee's Bakery in Maysville in 1973 and moved it from downtown to their commercial kitchen a few steps from their house in 2004.
Initially, they thought the bakery would eke out a small retirement living for them, shipping baked goods for longtime customers, so they set out a dinner bell, so patrons could ring it to get the owners' attention. Before long, the bell started ringing so constantly that a family member had to stay in the bakery during business hours.
Also, lifestyle ignorance goes both ways.
As Judy Dickson serves some of the bakery's popular rhubarb sauce — like a chutney or marmalade — a reporter says that she has never before tasted rhubarb and glances suspiciously at the greenish liquid in the dish.
"Another one," comments Russell Dickson, Ron and Judy's son, with a knowing nod and just a hint of eye-roll. The Dicksons have been besieged with media coverage in recent days.
First essential thing to know: Transparent pies are not really transparent. The "transparency" refers to the ability of such pies to quench the farm family's sweet tooth with only what was on hand, Judy Dickson said. Transparent being more a synonym for plain and unadorned rather than see-through.
When you didn't have off-the-farm exotica such as nuts and fruit to make pies, you turned to what you had on had on the farm: butter, eggs, sugar, flour.
Chess pie is a close relative of transparent pie, but chess pie usually includes cornmeal and vinegar. It's also the rare home baker who can approach anything like the ethereal flakiness of that Dickson transparent tart crust.
Second thing to know: The Clooney family and Magee's have a long history. The Dicksons know George Clooney's parents, Nick and Nina Clooney of nearby Augusta, and describe their family as all being fans of the transparent pies.
The late singer Rosemary Clooney, Nick's sister, preferred the bakery's cake squares. The Dicksons baked Rosemary Clooney's wedding cake for her 1997 wedding to Dante DiPaolo.
Rosemary Clooney's friend, the late comedian Bob Hope, once visited the bakery. Hope sang at the Clooney-DiPaolo wedding.
Third thing to know: The pies are cheap to buy on the spot — a little over a dollar, and you may catch them still warm from the oven if you're early enough — and more pricey to have shipped, but still a bargain.
Last Tuesday, the Dicksons were shipping baked goods to New Jersey and West Virginia amid bursts of local customers.
https://www.youtube.com/watch?v=zpkovZB9tD8
http://www.kentucky.com/2015/06/15/3901415/a-visit-to-george-clooneys-favorite.html

Read more here: http://www.kentucky.com/2015/06/15/3901415/a-visit-to-george-clooneys-favorite.html#storylink=cpy

Read more here: http://www.kentucky.com/2015/06/15/3901415/a-visit-to-george-clooneys-favorite.html#storylink=cpy



Nicky80

Casamigos with Mr Clooney




Posts

: 8561


Join date

: 2013-05-01


Location

: Germany



---
Permissions in this forum:
You
cannot
reply to topics in this forum