Free Webmaster Tools
Submit Express

21 Reasons Why George Clooney Is The Ultimate Silver Fox
JAN. 31, 2014
By CHELSEA FAGAN
The Monuments Men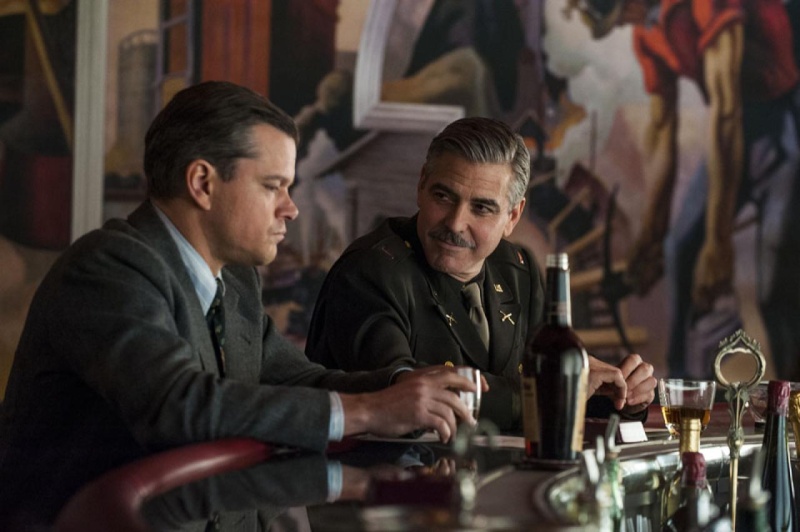 While the title of Ultimate Silver Fox clearly has a fair amount of contenders — not the least of which being Anderson Cooper, who will clearly one day usurp the throne — Clooney simply reigns supreme. He has been wielding his charms on the world for literal decades now, and it's time we talk about why he may have gotten silver, but he will always be gold in our hearts. (I'm sorry.)
1. He has the kind of cocky, effortless charm that leads you to believe that his most suave characters are just him acting like himself.
2. His new movie, The Monuments Men — the true story of a World War II platoon that saved priceless art from the Nazis — has him in uniform so, umm, yum.
3. The cultural impact of his silvery goodness started all the way back when he was raven-haired (and had a relatively effeminate feathered cut) in the mid-80s.
4. The only woman who ever managed to put a ring on it is currently Roger Sterling's wife, both on TV and in real life. So on the rare occasions he decides to get married, he has pretty great taste in ladies.
5. Because of him, Lake Como is a thing that even us sweaty American plebes are intimately familiar with. He has brought beauty and culture to the people.
6. He is the face of Nespresso, which is classy and chic and European, much like his huge Italian villa.
7. He has an unparalleled five o'clock shadow, when he chooses to let it grow.
8. No matter how many times he does that old-fashioned, side-parted hairstyle-and-mustache combo, it's still adorable. It never gets old.
9. He embraces his grey 100 percent, unlike the men who are ruined by their pride into Just For Men-gelling themselves into oblivion.
10. A lot of his most iconic movies have been great because of their awesome ensemble casts — he knows how to pick good people to work with (Matt Damon, John Goodman, Bill Murray, etc).
11. He has a good voice. We don't appreciate good voices enough as a society, but they are a very real and important thing.
12. He writes, directs, acts, produces, and I can only assume rescues children from packs of rabid wolves.
13. He is actually funny, unlike so many actors of his hotness-level who attempt to be funny in movies.
14. Men will often cite Clooney as one of the men that they respect, admire, and want to be like. (Which is cool, as often these very same men aren't aware of celebrities at all.)
15. Despite playing evil characters from time to time, no one thinks of him as "that evil guy," as we do with lesser actors.
16. He seems to be BFFs with all the coolest actors in Hollywood (please tell me that he and Matt Damon are actually best friends, I will actually be crushed if they aren't).
17. Despite not being married, his capacity for love is not diminished, as evidenced by his adorable relationship with his late pot-bellied pig.
18. He was the first man ever to appear on the cover of Vogue.
19. Though it should go without saying at this point, he is really, really, ridiculously good-looking.
20. He's likely in the top 10 hottest political activists in the world.
21. He's been a verified sex symbol since our mothers were in college, and his appeal has never dipped. His ownership of the cougar beat — while still being the go-to boyfriend of 20-something aspiring models everywhere — is what proves his dominance above else. No one can touch The Cloonz. He did it first, and he did it right.
This post brought to you by Sony Pictures' The Monuments Men – directed by and starring George Clooney. Based on a true story, it features a WWII platoon tasked with saving art masterpieces from Nazi thieves and returning them to their rightful owners. See it in theaters on February 7th.
http://thoughtcatalog.com/chelsea-fagan/2014/01/21-reasons-why-george-clooney-is-the-ultimate-silver-fox/

Mazy

Achieving total Clooney-dom




Posts

: 2883


Join date

: 2012-11-03



Good list....I like number 12

Joanna

George Clooney fan forever!




Posts

: 19267


Join date

: 2011-11-17


Location

: UK




Nicky80

Casamigos with Mr Clooney




Posts

: 8561


Join date

: 2013-05-01


Location

: Germany



Why are there only 21 reasons?? LOL

theminis

Moderator




Posts

: 6088


Join date

: 2012-02-29


Location

: Oz



'Cuz that's the age of his new girlfriend?

melbert

George Clooney fan forever!




Posts

: 19307


Join date

: 2010-12-06


Location

: George's House



melbert wrote:'Cuz that's the age of his new girlfriend?
Are they getting younger than his sister Ada's children now?
 .....
Most of this list is good enough. Some repeat.
Carefully crafted image of yesteryear stretched for maximum mileage.
Only #21 is ridiculously absurd. Reason that prompted stereotyped mockery on Golden Globes.
Aspiring models are in late teens & established by early 20s.
We're talking about an almost 53 year old man.  The types he dates are not models, nor ever have been. Aspiring tv personalities, sure. And in their 30s...last 3.
All now dating young, age appropriate men. 


...

Ooh, Mr Clooney!




Posts

: 804


Join date

: 2013-06-10



8,11,13 and 20 for my reasons.

Love hides in his hair.

Ooh, Mr Clooney!




Posts

: 929


Join date

: 2012-11-21


Location

: IN NJ




---
Permissions in this forum:
You
cannot
reply to topics in this forum