Free Webmaster Tools
Submit Express

Putting this by itself because don't know where to put it.
Clooney And La Vale Want To Know!
By Juan Manuel Navarro | 22/01/2014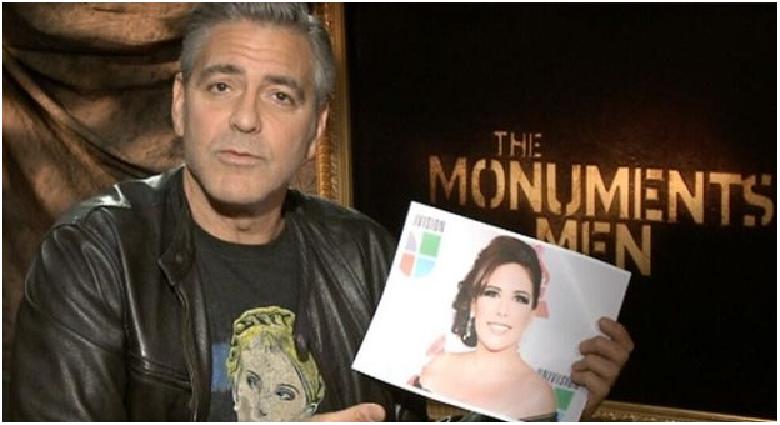 Photo: Twitter
In an exclusive interview with Televisa Entertainment, George Clooney , who is about to release his latest film entitled Operation Monument , reveals how was it working with Alfonso Cuarónon gravity and how happy he is for all the success you're having Mexican director with this film .
"You should be proud of Alfonso, like me, he's literally one of the most talented people I know and also the most friendly and fun, I could not be happier for him. belongs to Him and as large elite manager when we were working on the film had many blue screens, boxes with lights, cranes When we started filming, the technology that was used in the movie is not yet invented and he said to me. 'trust, it will be great, we will do this and that ', and I can not imagine what it took to make the film, his hair grew white, was a very difficult film to make, is a great director, "said Clooney .
The actress Angelica Vale has said on several occasions as one of the most ardent fans ofGeorge Clooney and would like to meet him personally as it is her crush, so we take the liberty to present it even a photo and this was the reaction of actor.
"First, you see this woman, is not beautiful number one and two: Nice to meet ya better know in person ever," he concluded.
It is currently working on a new television project alongside producer Jaitovich Israel which could be broadcast on Televisa this year.
Would you like to Angélica Vale fulfill his dream to meet George Clooney in person?
http://www.televisa.com/programas-tv/noticias/680507/george-clooney-y-angelica-vale-quieren-conocerse/
Last edited by Katiedot on Sat 25 Jan 2014, 10:25; edited 1 time in total (Reason for editing : updated thread title)

Mazy

Achieving total Clooney-dom




Posts

: 2883


Join date

: 2012-11-03



Thanks Mazy, funny picture hehe

Nicky80

Casamigos with Mr Clooney




Posts

: 8561


Join date

: 2013-05-01


Location

: Germany



Thanks, Mazy
It's funny, I read something about this yesterday in twitter, but I thought it was a joke, but no  


chiki

Clooney Expert




Posts

: 273


Join date

: 2013-05-23



In the interview he said maybe they might get to meet sometime. But did say, is this not a beautiful woman? Should find that interview. He is speaking English while the spanish guy speaks spanish. I watched it yesterday in the videos tweeted at the time.

But to me, the guy pulled that pic out as a complete surprise. But George is never ruffled by such things, tho I think its sort of against the rules to pull out unplanned surprises on a guest like George. George likes to know how an interview is planned. Untrustworthy interviewers do not get George on their shows.

NotAvailable

More than a little bit enthusiastic about Clooney




Posts

: 1036


Join date

: 2011-06-04


Location

: Somewhere, everywhere



And, here we have a better version of this story:
http://www.latintimes.com/george-clooney-meets-angelica-vale-watch-mexican-actress-get-complimented-hollywood-actor-video

George Clooney 'meets' Angelica Vale

What does E! Entertainment's Giulianna Rancic and Mexican actress Angélica Vale have in common? They're both head over heels for George Clooney and they're not afraid to show it. We've seen Giulianna hosting the red carpet of the major award shows and sighing over the Hollywood actor multiple times, and "suffering" every time he steps out with a new flame.

Well, it turns out that Angélica pretty much feels the same. She's been very outspoken with her crush, and in one occasion she was asked about her relationship status, to which she jokingly replied "I'm waiting for George Clooney to make up his mind." And it seems this time around, she might be even closer to him than she expected.

To play along with her persistent crush, Juan Manuel Navarro, a Televisa reporter, sat down with Clooney to interview him about his newest project, "The Monuments Men," and he took a chance and "introduced" him to Angélica Vale explaining she's a very famous Mexican actress who has the biggest crush on him (but really, who doesn't?).

Navarro took out a picture of Angélica and gave it to George. "First of all, look at this woman. Is this not a beautiful woman?" Clooney replied. He later said he hoped to meet her in person some time. Of course, Angélica Vale was more than surprised and excited and took it to Twitter.

"Very happy! I won't sleep today and neither my husband! Hahahaha! Thanks @juannavasal You rock!" The Mexican actress wrote in Spanish. She later added "I can't with the excitement! He had me in his hands! Hahahaha"




Katiedot

Admin




Posts

: 13224


Join date

: 2010-12-05



Its closer but he said, "maybe I'll meet her in person sometime." Not I hope to meet her in person sometime.

NotAvailable

More than a little bit enthusiastic about Clooney




Posts

: 1036


Join date

: 2011-06-04


Location

: Somewhere, everywhere




---
Permissions in this forum:
You
cannot
reply to topics in this forum