Free Webmaster Tools
Submit Express
http://www.gossipcop.com/peter-otoole-dead-died-cause-death-rip/
A very handsome man...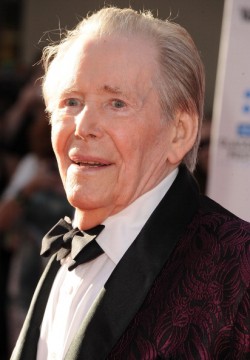 Peter O'Toole Dead at 81
Truth rating: 10
1:25 pm, December 15th, 2013 
Peter O'Toole is dead.
The legendary screen and stage star passed away in a London hospital on Saturday after a long illness, says his agent.
He was 81.
The actor is best known for starring in Lawrence of Arabia.
O'Toole's other notable film work includes Man of La Mancha, My Favorite Year, Venus, and the "Joan of Arc" miniseries.
His most recent fare, prior to retiring in 2012, includes Troy, Ratatouille, and "The Tudors."
O'Toole also starred in dozens of stage productions over the years.
A four-time Golden Globe winner, he holds the record for the most Academy Award acting nominations without a single win.
In 2003, he received an honorary Oscar for his body of work.
Daughter Kate, one of the star's three children, says in a statement, "His family are very appreciative and completely overwhelmed by the outpouring of real love and affection being expressed towards him, and to us, during this unhappy time."
"Thank you all, from the bottom of our hearts," she says, adding, "In due course there will be a memorial filled with song and good cheer, as he would have wished."

melbert

George Clooney fan forever!




Posts

: 19291


Join date

: 2010-12-06


Location

: George's House



What a brilliant, classically trained actor.
I was watching the YouTube video yesterday about the top 10 actors who haven't won an Oscar, on another thread,  and I was sad that Richard Burton was no longer here but when I came to Peter O'Toole, I thought, he's still alive and has won an Honorary Oscar in 2003, recognizing him as a prominent, legendary actor...
At the time,
... he was 'enchanted' by the gesture, he felt it was a premature signal of his retirement.
In a handwritten letter to the Academy, he added that as he is 'still in the game and might win the lovely bugger outright, would the Academy please defer the honour until I am 80'.

R.I.P.  
What a legend!

...

Ooh, Mr Clooney!




Posts

: 804


Join date

: 2013-06-10




Joanna

George Clooney fan forever!




Posts

: 19233


Join date

: 2011-11-17


Location

: UK






Sweet Darling Man, he would get a kick out of the timing ... In his old neck of the woods, if you die within 12 days of Christmas, before or after, you get a free pass into heaven.... No matter how much hell raising ...

O'Toole born and died under a lucky star...

What Would He Say

Practically on first name terms with Mr Clooney




Posts

: 2214


Join date

: 2013-05-15


Location

: OneDAyComo



So sorry to hear of his death....he was a wonderful actor.

Oh and WWHS I never heard that one before...learn something new every day....

silly girl

Hi ho, hi ho, it's off to Clooney I go!




Posts

: 3299


Join date

: 2011-02-28



Hi, I'm just posting this link ... for anyone who loves a great story .... it was played as a tribute to Peter O'Toole on Irish radio this week, and was an interview with him during the Galway film festival ....
pure magic
Hope this bloody link works ... scroll down about 1/2 page  to find Pic of O'Toole and press play.....
Enjoy
I liked it so much I'm going to listen again now, while I get the damn tree decorated ....thats the beauty of radio
http://www.rte.ie/radio1/arena/programmes/2013/1216/493276-arena-monday-16-december-2013/?clipid=1379735

What Would He Say

Practically on first name terms with Mr Clooney




Posts

: 2214


Join date

: 2013-05-15


Location

: OneDAyComo



---
Permissions in this forum:
You
cannot
reply to topics in this forum