Free Webmaster Tools
Submit Express

Found by
Ines
. No date, no link: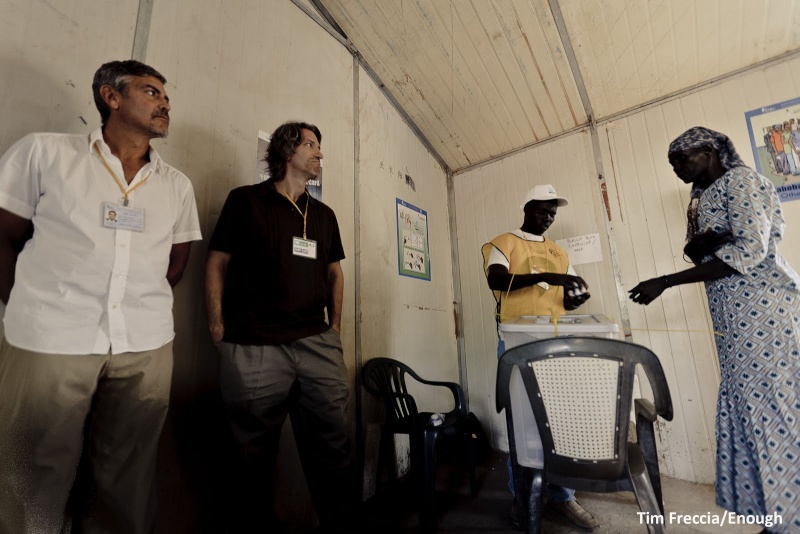 George Clooney and John Prendergast watch as a woman votes in Juba on January 9, 2011 (Enough/Tim Freccia)

Katiedot

Admin




Posts

: 13224


Join date

: 2010-12-05



Pre-arranged PR shot? Because what is the actual point (other than PR value) of two American white guys standing in a election centre watching other people vote in an election that they can't vote in as they are not citizens of the country? Where I'm from, voting is considered personal and private. You expect the politicians to attend the polling booth to glad-hand and have their picture taken with the locals but these two? I expect better for Prendergrast. There is also the perception issue - them in the voting booth could be perceived as them trying to sway voters when they come into vote. They sure don't have their happy faces on.

Sorry to sound bored with the whole thing but I have become relatively cynical of this whole exercise. It was determined 5 years ago that they would go to the polls at the start of 2011 yet the way George talks, it was only something that came about due to the negotiations that occurred due to his interest in the issue, him getting the issue media attention and UN involvement that came when he took on the cause. He raised its profile – fantastic. That wards off corruption and makes those at the top realise their will need to be transparent in their decisions and undertakings as people are watching. George visits the area – raising its profile and keeps attention - great. The George turns up for the election – nice but there were many other, more qualified people there for the vote and to ensure that it stayed on track. George sole purpose thewre is to keep media attention on the situation – great. But then whilst he is there, he has to get drunk in front of the photographers there to cover the election so then the story and focus becomes about him. The drunk pictures get floated to the media and go global. Then all of a sudden, it gets leaked that he contracted malaria again so then the drunk stories go away and the press focus on his health.

It just seems so manufactured and media manipulated. Any genuine desire to help seems to get in the way of the smoke and mirrors to ensure that his brand and image are boosted by his involvement.


watching

Practically on first name terms with Mr Clooney




Posts

: 2002


Join date

: 2011-01-17


Location

: A padded cell somewhere



Well, I don't know. I think you're being a little harsh, there Watching. He went there specifically to be there while the voting went on, so it would odd if he didn't actually appear at a voting station, wouldn't it? And how could he influence anyone's vote? He doesn't speak the language.

Katiedot

Admin




Posts

: 13224


Join date

: 2010-12-05




it's me

George Clooney fan forever!




Posts

: 17581


Join date

: 2011-01-03




---
Permissions in this forum:
You
cannot
reply to topics in this forum