Free Webmaster Tools
Submit Express

http://www.nerdles.com/2012/03/30/what-would-george-say/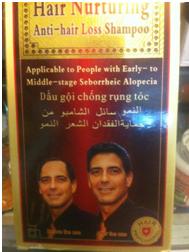 George's hair is on the spot
A recent trip to the mall has stirred my thoughts to celebrity endorsements. While I was walking around, I was super shocked to see a bald George Clooney plastered on a foreign hair loss product. I was trying to recall if this Hollywood hottie was ever bald because I always see him with beautiful, thick hair. Has anyone seen George with a bald spot?
Everyone is fully aware that A-list stars earn big bucks for endorsing different products to public consumers. Not only do they get paid to have their pictures taken, they also serve as spokespeople for the products they endorse. I wonder how George or any other star would feel about false marketing, much like this hair loss shampoo being sold at the mall.
Although advertising has made some famous names richer, some celebrities face scrutiny, and even criminal charges, for misleading endorsements. Here's a list of some stars who's been involved in false advertising:
1. Kim Kardashian
Although Kim has been scrutinized for her talentless fame and 72-hour marriage, she's also been under fire with civil charges for putting her name in 2 different products. Late last year, hair removal company "Radiancy" sued Kim for false advertising. According to the law suit, she misled consumers while she endorses the hair removal system TRIA.
Another lawsuit came from the dieters who tried QuickTrim diet pills, and failed to see results. Kim faces this $5 million lawsuits as consumers of this product felt misled by Kim and her sisters, who describes the product as "clinically proven formula that will increase metabolism, curb appetite and promote weight loss."
2. Shaquille O'Neal and Llamar Odom
A class action lawsuit was filed against these two NBA players for marketing the Power Balance athletic bands. Llamar Odom claims that "playing at a championship level requires you to perform at your peak day in and day out. The Power Balance silicon wristband helps me keep that balance." While Shaq claims that he went through kinesiology tests which showed improvement in strength and balance when O'Neal wore the Power Balance bands.
The lawsuit stresses that the conduct of all of the defendants, including Power Balance, O'Neal, and Odom, constitute false advertising and unfair competition under the California Unfair Competition Law, and violates the California Consumers Legal Remedies Act.
3. Jillian Michaels
Known as the tough celebrity trainer in The Biggest Loser, Jillian Michaels is being sued by a California woman for false advertising. Christie Christensen sued Michaels, claiming that she bought a product with Michael's picture and product endorsement called "Calorie Control" last month but failed t deliver any results.
4. Bethanny Frankel
Reality TV star Bethanny Frankel was sued for claiming that her Skinny Margarita endorsement product is all-natural when its not. She is accused of falsely advertising that her "guilt-free" line of margaritas is "all-natural" when, in fact, it contains the preservative sodium benzoate. A $10 million class action was filed against her.
Photoshopping
The National Advertising Division has made its first step towards false advertising not too long ago, when they banned Taylor Swift's CoverGirl mascara ad campaign for excessive photoshopping. Meanwhile, the Advertising Standards Authority has banned numerous ad campaigns such as Julia Robert's Lancome ad and Christy Turlington's Maybelline ad because of complaints that the images looked overly Photoshopped.
Indeed, a lot of people feel that celebrity endorsers should also be held liable for misinforming the public with the products they promote. Celebrities who are well compensated for their endorsements must make their statements about products or services based on their honest opinions and beliefs, together with their experience with a product.
This just goes to show that we should not make our buying decisions based on ads of our favorite stars. People should be aware that reading labels and educating one's self is still the best way to make sure that the products and services we purchase are safe and real. And another thing to remember: don't believe everything you see! So, do you still think George used this hair loss shampoo to grow his suspicious-looking bald spot?
Last edited by Katiedot on Sat 31 Mar 2012, 16:31; edited 1 time in total (Reason for editing : added the picture)

Merlin

More than a little bit enthusiastic about Clooney




Posts

: 1208


Join date

: 2010-12-06


Location

: Liverpool UK



no good at all
I see some sued coming....

it's me

George Clooney fan forever!




Posts

: 17788


Join date

: 2011-01-03



That is a horrible pic - I cannot think that he knew about it or the law suit would have already been filed. wow -

bunny

Learning to love George Clooney




Posts

: 243


Join date

: 2010-12-14




it's me

George Clooney fan forever!




Posts

: 17788


Join date

: 2011-01-03



bunny wrote:That is a horrible pic - I cannot think that he knew about it or the law suit would have already been filed. wow -
So would George be suing for the use of his image without his permission or because the image is so bad it makes him look like shit! Brahahahaha!
I think he should sue them cause the picture makes him look like shit! Sue the bastards!
And what does that say about why we like George? Could he be just one bad, balding and wrinkled picture away from losing our love and adoration? I'll bet that's what's in his nightmares!
George wakes up in a cold sweat cause he's seen what he'll look like if he lost his hair and good looks!
http://1.bp.blogspot.com/_orkXxp0bhEA/Scl_l5h-vMI/AAAAAAAAREE/8Og_GHDyoLk/s1600-h/090324-rickles.jpg

LornaDoone

Moderator




Posts

: 6694


Join date

: 2011-01-06




Katiedot

Admin




Posts

: 13224


Join date

: 2010-12-05



LOLOL

shocked me at first, but once I acclamated, he actually looks like James Taylor, who I also think is sexy.

Lakin460

Slow dancing with George Clooney




Posts

: 6802


Join date

: 2012-03-01


Location

: Ohio, USA




---
Permissions in this forum:
You
cannot
reply to topics in this forum