Free Webmaster Tools
Submit Express

!These instructions are for YouTube videos only. For other videos, scroll down to my next post!
Adding a YouTube video is a piece of cake and anyone can do it.
1. Go to the youtube video you want to insert in your post and copy the address of the video (the bit that starts http://www . . . . etc) by right clicking your mouse and selecting 'copy':
2. Then come back to the forum and either click on the 'reply post' button or the 'preview' button. This will bring you to a new reply screen with the longer tool bar at the top.
3. Click on the button that looks like a video and paste the address of the youtube video in the little box that opens up when you click on it:
4. Click on 'ok' and then post your message. The computer will automatically format the video for you.
Note: this only works for Youtube videos, Daily Motion videos and Google videos.

Katiedot

Admin




Posts

: 13224


Join date

: 2010-12-05



How to add videos from other sites to your post:
Again, this is easy peasy, lemon squeezy. The only way to add video is if the site you're copying from will allow you to embed their video into this forum.
1. Go to the video you want to bring over here and click around the video until you find a link that says 'embed':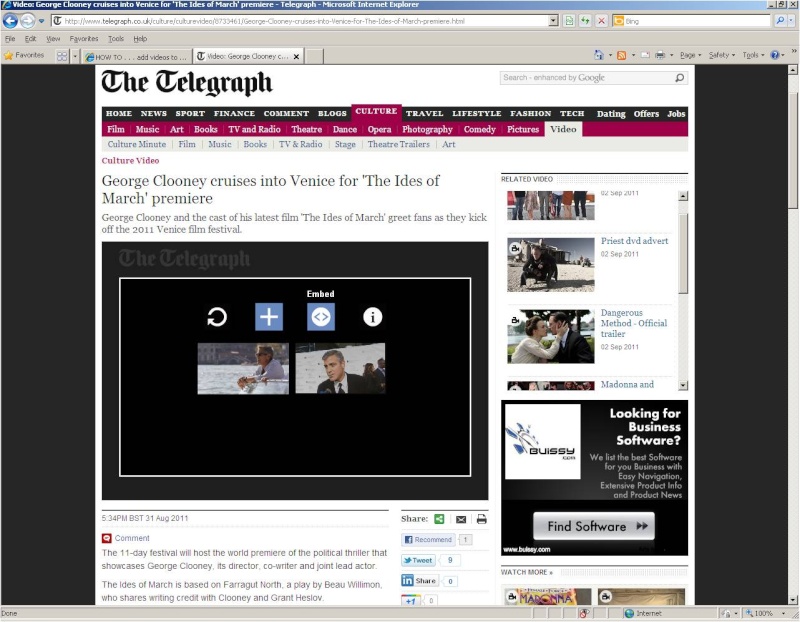 If there is no 'embed' link then sorry, there's nothing you can do.
2. Click on the 'embed' button or link on the video and copy the code it gives you. This can sometimes be really long so make sure you get it all.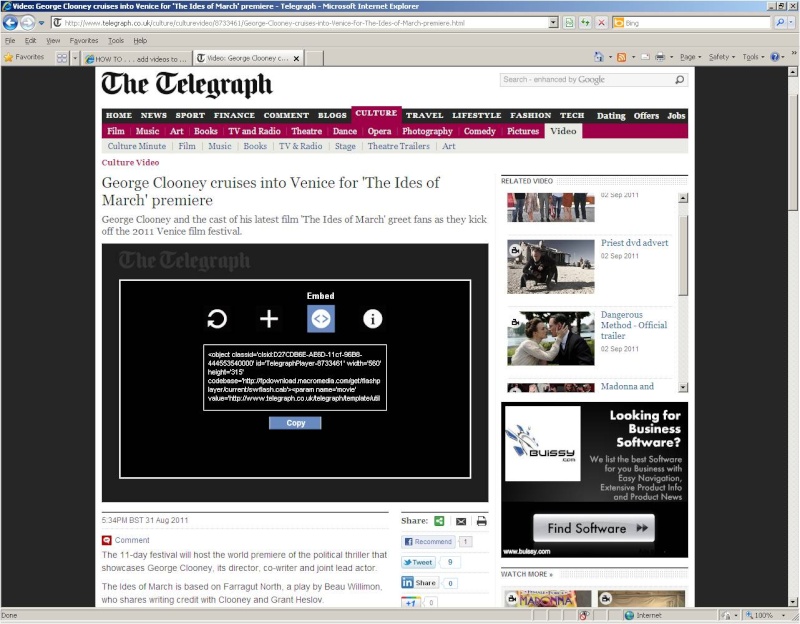 3. Come to this site and then just paste the code into your post. The computer will automatically format it for you.

Katiedot

Admin




Posts

: 13224


Join date

: 2010-12-05



Again, Thank you, thank you, thank you very much (think Elvis).



Often wondered what embed meant.

pattygirl

Achieving total Clooney-dom




Posts

: 2827


Join date

: 2011-02-26


Location

: Staten Island, NY



Thanks Katie! Maybe my computer-illiterate status will improve with your great teaching!

melbert

George Clooney fan forever!




Posts

: 19323


Join date

: 2010-12-06


Location

: George's House



I feel like I'm taking a computer course and I love it!!!!

blubelle

Ooh, Mr Clooney!




Posts

: 959


Join date

: 2010-12-22



Katie - how do I post my own video from my computer? It's the same one that's on Diet - can I download from there?

Charley

Drinking George Clooney under the table




Posts

: 457


Join date

: 2010-12-06



Hi Charley - as far as I know, there are only two ways to add a video here and that's as I described above. Your video needs to be online and either on youtube or embed-able.

Katiedot

Admin




Posts

: 13224


Join date

: 2010-12-05




---
Permissions in this forum:
You
cannot
reply to topics in this forum