Free Webmaster Tools
Submit Express

Any text from another site should really go inside quote to make it clear you're quoting something else and not posting your opinions.
The easiest way to do this is simply to type [quote] at the beginning of whatever you're quoting: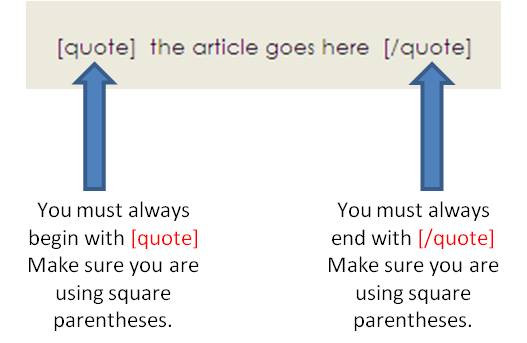 Begin the article by using the
quote
instruction and you must end it by using
/quote
instruction. If you randomly thow in
quote
or
/quote
in the middle of the text, the computer won't know what to do!
Please remember that all instructions to the computer must go inside square parentheses: [ or ] as in my example above. It won't work if you use the wrong shape parenthesis.

Katiedot

Admin




Posts

: 13224


Join date

: 2010-12-05



There is another way to quote text which is by using the 'quote' button. You'll find this in another screen, so to get to that screen, you either need to click on the 'post reply' button near the top of your screen:

OR you can click on the 'preview' button at the bottom of your quick reply box: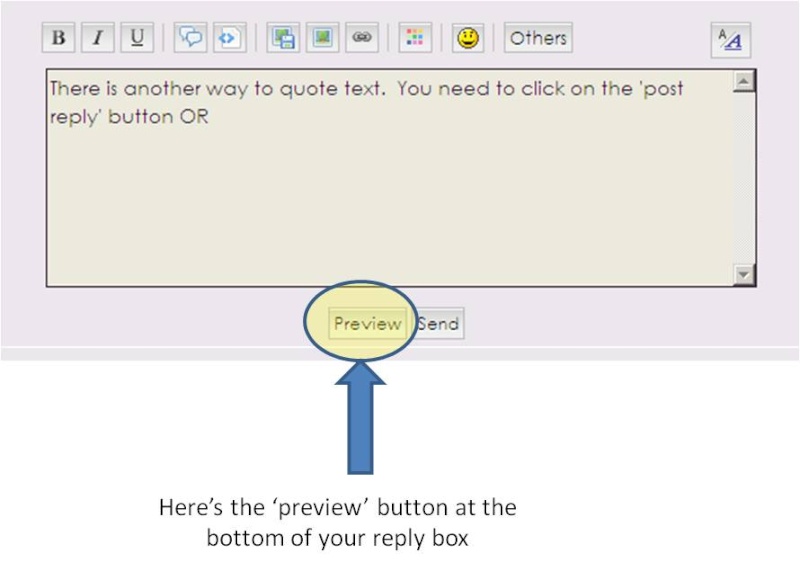 When you've done that, you'll get a much longer toolbar just above your reply box. Highlight the text you want to quote and when you're sure it's all highlighted, click on the 'quote' button:
The computer will automatically put the text you highlighted inside quotes for you.

Katiedot

Admin




Posts

: 13224


Join date

: 2010-12-05



This is soooo great. Thanks again.

blubelle

Ooh, Mr Clooney!




Posts

: 959


Join date

: 2010-12-22



Oh, so THAT'S how that is done... Damn, I'm an idiot!!!!

melbert

George Clooney fan forever!




Posts

: 19323


Join date

: 2010-12-06


Location

: George's House



Again, thank you, thank you. You are really amazing.

pattygirl

Achieving total Clooney-dom




Posts

: 2827


Join date

: 2011-02-26


Location

: Staten Island, NY




---
Permissions in this forum:
You
cannot
reply to topics in this forum